Sabah flood worsens, more people evacuated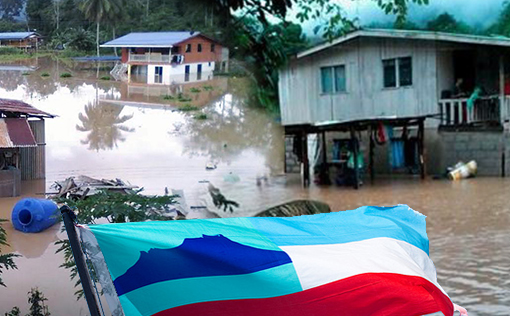 A heavy downpour submerged three houses at Kampung Langsat and Kampung Bundusan near Tenom, yesterday night. A total of nine families from Kampung Bundusan had to be evacuated and given a temporary shelter by their relatives.
The flood situation in the rural areas in Sabah continues to worsen with water level in some of the rivers such as Sungai Mottou, Sungai Bariawa and Sungai Pamalan reaching critical. The increase in the water level in Sungai Pamalan had also caused river bank erosion.
Tenom District's Natural Disasters Committee had announced that the water level of the Padas River rose up to 177.55 meters, which is above the danger level.
Apart from Tenom District, the downpour which continued for the third day affected more than 300 victims in the districts of Beaufort, Membakut and Keningau.
According to The Malay Mail Online, Beaufort district officer Shahid Othman said 22 victims have been evacuated to the Beaufort new hall while 73 victims in Membakut were transferred to the Membakut Multipurpose Hall.
National Security Council (NSC) Sabah also informed that 173 flood victims from 54 households in Membakut had been evacuated to relief centres since yesterday morning.
More than 20 schools were closed due to floods in Beaufort, Papar and Tenom yesterday, with more than 2,982 students and 306 teachers affected.
Meanwhile, thousands of road users using the Pan Borneo Highway road linking Brunei, Sabah and Sarawak left stranded after it was hit with flood reaching four feet.
Semua berita dari laman web ini adalah hasil sumbangan rakyat Malaysia dari pelbagai lapisan masyarakat. Jika anda berminat untuk lebih mengetahui mengenai kursus penulisan dari Citizen Journalist Malaysia atau ingin menyumbang artikel anda, sila (KLIK SINI)
________________________________
All news posted on this website are written by Malaysians from all walks of life who are trained by Citizen Journalist Malaysia. If you are passionate about writing, photography or  video storytelling and would like to contribute your articles, photographs or videos of events that is happening in your community, please (CLICK HERE)
________________________________
For more updates, please like us on Facebook