Pandamonium as people flock to see adorable sculptures at Publika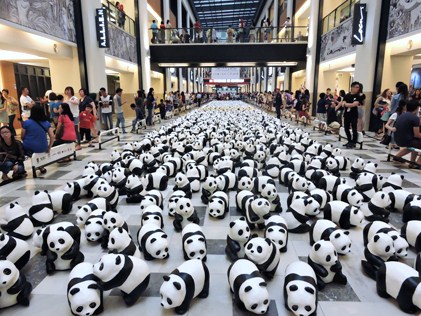 Crowds of people are flocking to see all 1,600 pandas as they are on display at Publika shopping mall, Solaris Dutamas, Kuala Lumpur from Jan 13 until 25, 2015.
The papier-mâché  pandas created by French sculptor Paulo Grangeon are on a world campaign to promote panda conservation and sustainable development.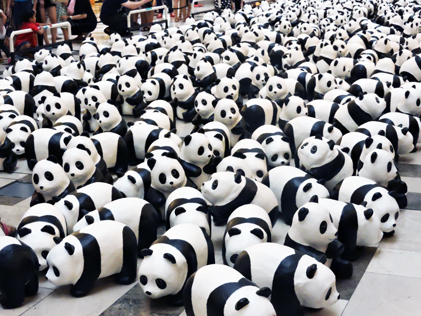 The people are happy to see so many cute, adorable and cuddly pandas in various poses in one place. Many could not resist taking pictures with the pandas.
A young gentleman felt good about it being a very special happy occasion. He went down on one knee to make a marriage proposal to his girlfriend in front of the pandas and she accepted to the delight of the cheering  and clapping crowd, and the pandas seemed like they were happy and smiling too.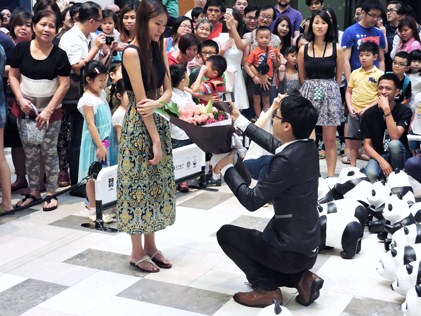 The 1600 pandas are a symbolic representation of the number of pandas left living in the wild.
The 1600 Pandas World Tour is now on its last leg of its Malaysia tour that began at Dataran Merdeka, Kuala Lumpur on Dec 21 last year and had exhibited at various locations in the country, including at Putrajaya, Batu Caves, Taiping Lake Garden, Penang Cheong Fatt Tze Mansion,  Teluk Intan Leaning Clock Tower, Malacca Stadthuys and National Monument, Kuala Lumpur.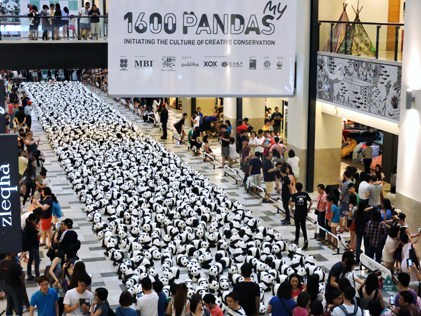 Malaysia is Asia's third stop. The tour had taken through exhibitions to various countries including France, Holland, Italy, Germany, Switzerland, Hong Kong and Taiwan.
So if you miss it this final weekend at Publika, chances are the 1,600 pandas may never come back to this region again so soon.