Beauty queens show their care for the less fortunate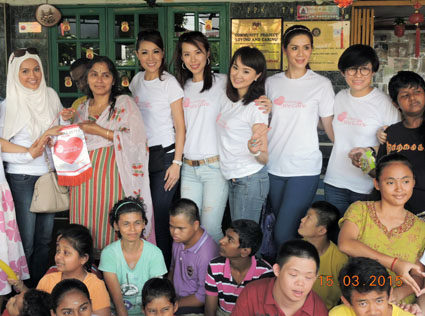 Fourteen Miss Malaysia past and reigning beauty queens brought smiles to 109 children, the youngest one being 5 years old, from Taman Megah Handicapped & Disabled Children's Home in SS24, Petaling Jaya during their visit on March 15, 2015.
The girls spent time talking and playing with the children, showing their love and care and even feeding some of them. They also enjoyed themselves taking "selfies" with the young residents.
The 14 were part of 24 Miss Malaysia title holders from a wide array of pageants, from 1990 to 2014, who will be voluntarily taking to the stage and showcasing their talent at the Miss Malaysia Charity Night on April 3.
The charity event with the theme "Because We Care", aimed to raise RM100,000 for 10 charitable homes, with each home getting RM10,000.
As part of the theme's name,  the girls will also be visiting an unprecedented 10 charitable homes over the weekend.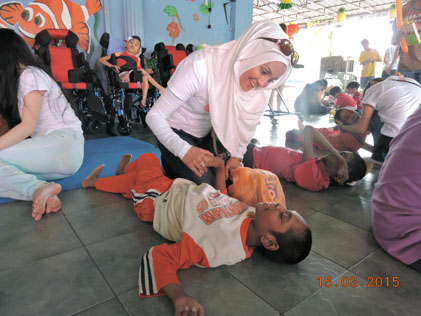 "I feel honoured to be part of this charity event to help the less fortunate. We are fortunate enough to live a comfortable life and we should do our very best to help those that are less fortunate," said Miss Queen of the Year Malaysia 1993 Susan Manen.
The former beauty queen said she felt sad to hear that some children had been abandoned at the home by their parents who never returned.
"I am more than happy to help someone who is in a less fortunate circumstance than myself," she said.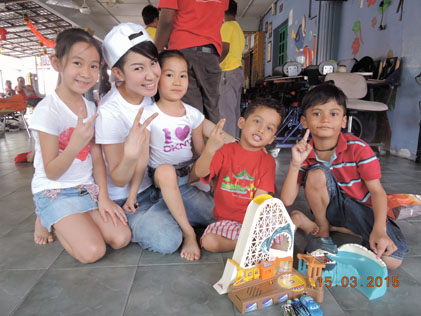 Miss Malaysia Universe 2001 Tung Mei Chin said she enjoyed being part of the event to spend time with the children of the home.
"This visit has made me more grateful about my life. It has given me an opportunity to be close to people who are less fortunate than I am and it comforts me knowing that I made someone's day cheerful," said Tung, who was also Miss Malaysia Tourism 1999.
The former beauty queen with two titles said she wanted to spend more time with these deserving children and will certainly be returning to the home with her own children.
"Sometimes when my kids watched TV, they would ask, 'Mom, where is this place and why are they living without mom and dad,' so I brought my two daughters along with me here today to let them better understand and appreciate for those less fortunate," she said.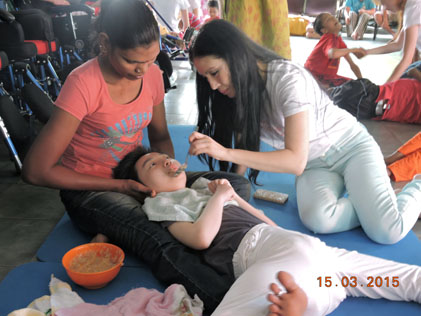 Among the former beauty queens present were Miss Malaysia Tourism Queen of the Year 2004 Lavence Lim, Miss Malaysia Asia Pacific 1999 Lim Sui Pei, Miss Malaysia Tourism Queen of the Year 1997 Karmen Khor and Miss Malaysia Globe 1994 Frennie Hew, Queen of the Year Malaysia 1993 Susan Manen, Mrs Universe 2013 Carol Lee, Miss Malaysia Tourism 2003 and Miss Chinese Cosmos International 2004 Carrie Lee and Miss Malaysia Tourism 1999 and Miss Malaysia Universe 2001 Tung Mei Chin.
R. Umah Kumar, the president of the Taman Megah Handicapped & Disabled Chidren's Home, welcomed all of the beautiful Miss Malaysia beauty queens to the home.
"The children are very happy and excited to meet the beauty queens. We are also very happy and grateful to all the beautiful ladies for supporting the charity," she said.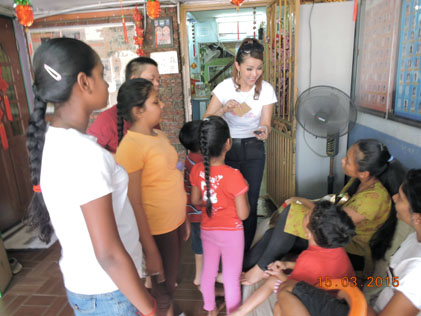 The home was setup in 1997 and currently has 109 children staying.
"About 80 of them are disabled with various disabilities such as cerebral palsy, Down syndrome, autism, blind, hyper activity and the mentally retarded. The rest are normal children who come from broken, abused or single parent backgrounds.
"Many of the children here are without parents. They have long been abandoned when their parents died and relatives seldom visited them. We have only 23 children in the home whose parents still visit them," said Umah.
Come this end of June, the home's residents residing at different places will be moving to their new home now under construction in Taman Sea, a new 4 ½ storey building with more space and better living conditions.
Umah said the new premises can accommodate up to 350 children but they will not be taking in new residents and maintain the present number for the time being to focus in providing income-generating activities like doing handicraft work such as making beaded bracelet, key-chains and greeting cards for sale to the public.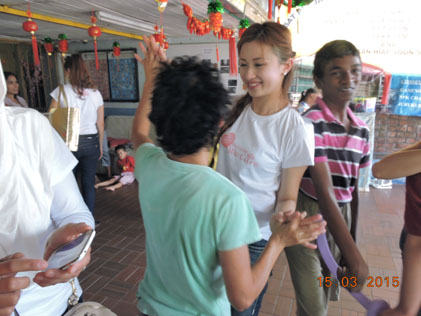 Umah said the 33,982 sq ft land alone costs RM2.65 million and construction of the new building costs RM11 million.  When completed, the home will be equipped with facilities, including therapy hall, library, clinic, swimming pool and multi-purpose hall.
"We are very grateful and thankful to the public for their generous donations for this wonderful building project.
"To date we are still short of close to RM3 million. We still believe in God. The caring members of the public are still helping."