Married pageant contestants ready to shine on grand final night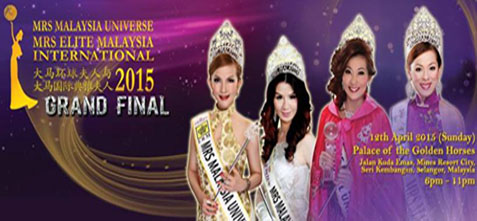 Thirteen married women between the ages of 28 to 40 are vying for the crown in the 9th edition of Mrs Malaysia Universe at the grand final being held this April 12, 2015 at the Palace of the Golden Horses, Seri Kembangan.
Eight other contestants in the age group 41 – 60 are competing for the Mrs. Elite Malaysia International crown.
The pretty maidens, all finalists, are very excited about the coming grand finale and are ready, prepared and more confidence now to face it and emerge winner.
There will not be any swimwear round. The winner will represent Malaysia to compete in the USA for Mrs. Universe title.
On the eve of the grand final, they will compete in a talent competition and will be followed by an award giving ceremony.
To purchase your Grand Final tickets, individual and per table options, contact or SMS 016-9222821.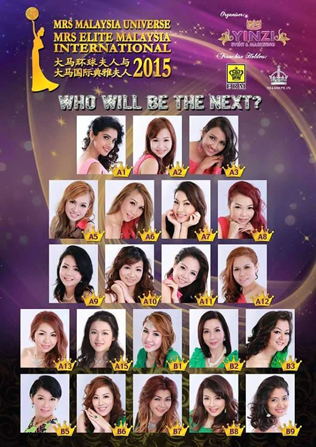 Mrs Malaysia Universe 2015 Finalists (age group 28 – 40)
Geetha Baskaran, 36, Selangor
Mandy Teh Mei Ling, 32, Selangor
Selestina Grace A/P Sunder, 32, Selangor
Jenny Chong Hooi Choo, 29, Kuala Lumpur
Vivian Lee Chai Yan, 35, Johor
Zoe Chong Lee Lee, 39, Johor
Tamie Choo Pak Yin, 39, Selangor
Kelly Chee Tshin Ling, 32, Kuala Lumpur
Ailly Lim LeePei , 34, Pahang
Ooi Shing Yng, 33, Penang
Alin Ch'ng Lai Tee , 36, Perak
Michelle Tiong Yong Hong, 36, Sarawak
Samantha Loh Mee Ling, 39, Kuala Lumpur
Mrs Elite Malaysia International 2015 Finalists (age group 41 – 60)
Wee Soo Mei, 41, Selangor
Tenny Lee Chea Yun, 53, Kuala Lumpur
Look Kah Hui, 48, Malacca
Lily Lui Sau, 46, Kuala Lumpur
Winnie Wang Ya Bing, 46, Kuala Lumpur
Elizabeth Sibah Jounin, 47, Sabah
Leeliian Lim Lee Lian, 43, Penang
Sukunah Pachaiappan Sugunah, 42, Selangor