Win passes for "Jurassic World" screening in Kuala Lumpur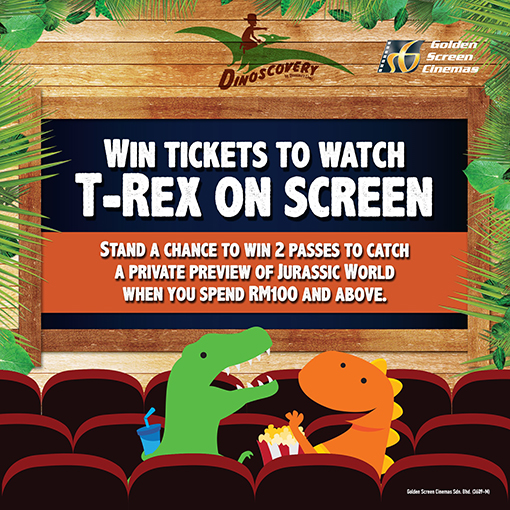 Dinoscovery by Dinosaurs Live!, Asia Pacific, in collaboration with Golden Screen Cinemas (GSC), Malaysia's largest chain of cinemas announces the Jurassic World Lucky Draw Contest, to give away free screening passes to Jurassic World from 25th May to 8th June 2015 at Discoveria, Avenue K.
The fourth installment in the Jurassic Park film series is scheduled to be released in Malaysia on 11th June 2015. Over a hundred lucky Dinoscovery by Dinosaurs Live! visitors will stand a chance to watch the long-awaited sequel to Jurassic Park III in a hall reserved especially for Dinoscovery visitors at GSC Tropicana City Mall on 13th June 2015 at 11.30am. Visitors will only need to spend RM100 and above in a maximum of 2 receipts at Dinoscovery by Dinosaurs Live! to be eligible for the lucky draw. Winners will be contacted by phone or email and will be required to collect the tickets at GSC Tropicana City Mall on the day of the screening.
"The Jurassic Park film series is undoubtedly a much loved classic amongst sci-fi fans and the release of Jurassic World has been greatly anticipated worldwide. We're delighted to be a part of this moment with GSC, and to be able to reward our loyal patrons for their support over the past year," said Lee Yew Jin, General Manager of EMS Discoveria Sdn Bhd.
Dinoscovery by Dinosaurs Live! 'a first-of-its-kind edutainment exhibition has been enthralling over 45,000 local and international visitors alike since its opening in March 2014. The interactive edutainment exhibition features reengineered, life size animatronics dinosaurs in true-to-life adventure-like settings that provides a sensory feast of endless fun for the whole family.
Amongst the exhibition's attraction is the Dino Quest, a Radio Frequency Identification (RFID)-based scavenger hunt which will propel the visitors  on the hunt for dinosaurs' specimens. Visitors will be decked in a vest and equipped with a map, torchlight and RFID tag which will guide them to exciting discoveries. Other engaging activities include racing a Gallimimus in an interactive race, climbing a wall to peek at a Pteranodon's nest, saving Diplodocuses by shooting pesky mosquitoes and getting your hands dirty by excavating for fossils and handling dinosaur poo.
Members of the public who are keen on Dinoscovery by Dinosaurs Live! can contact the exhibition hotline at 03 2181 7218, log on to www.discoveria.com.my or visit Discoveria's Facebook page at https://www.facebook.com/discoveria.kl. Opening hours are 10 a.m. to 7 p.m. on weekdays and 10 a.m. to 8 p.m. on weekends including school and public holiday.