8-year-old cancer patients wish of seeing "Dinosaurs Live" comes true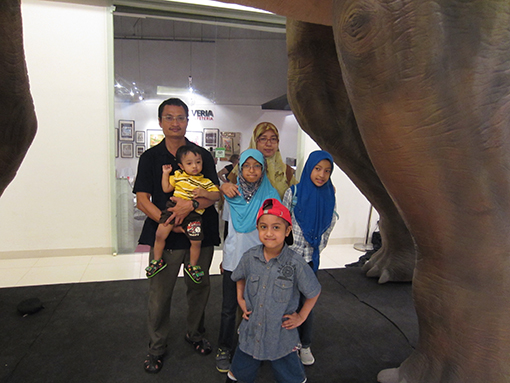 8-year-old cancer patient, Nik Alik Irfan's wish for an unforgettable experience of seeing pre-historic creatures up close finally came true. Make-A-Wish Malaysia in collaboration with Garden International School (GIS) and Discoveria helped make his wish true by sponsoring  Irfan's trip to Dinoscovery, Avenue K as part of its corporate social responsibility programme.
Irfan whos is from Shah Alam, Selangor was diagnosed with Acute Lymphoblastic Leukaemia in 2014 and is currently undergoing treatment.
In realizing his wish, Discoveria treated Irfan and his family to an exclusive 60-minute tour of Dinoscovery's main exhibits, its 17 reengineered life-size animatronic dinosaurs and 15 interactive hands-on dinosaur specimen-based educational attractions. Junior paleontologist handbooks were also presented as gifts to him and his three siblings.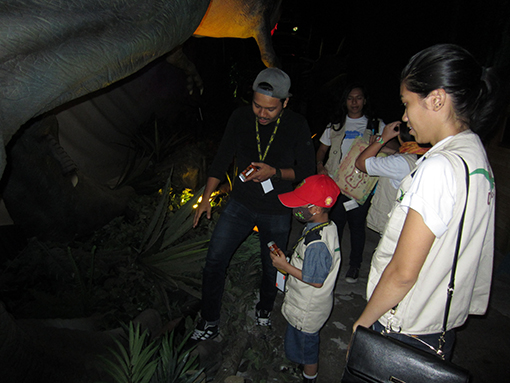 In spite of his weakened condition, Irfan excitedly don a paleontologist's vest and armed with a torch and Radio Frequency Identification (RFID) band set about exploring the exhibits and partook in the scavenger hunt accompanied by his parents, siblings, students and teachers from GIS.
Treating the exhibition as his private playground, Irfan gazed in awe at the Tyrannosaurus Rex exhibit and gamely scaled a wall to view the Pteranodon's nest. Encouraged by his parents and teachers from GIS, he challenged a Gallimimus to an interactive race; excavated fossils in the sandpit; and tried on the Tail Shaker to have a feel of how a Stegosaurus defended itself against natural prey.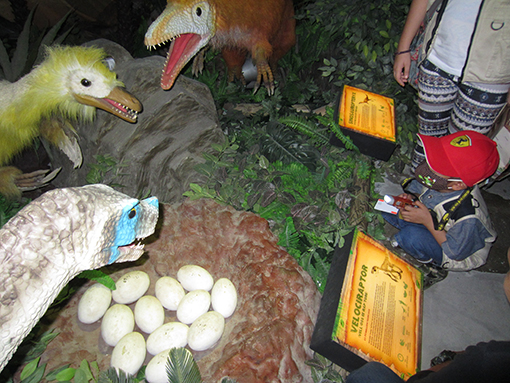 He also learnt about the evolution of dinosaurs by analyzing and comparing present-day animals such as chickens and elephants with dinosaurs as such the Theropod and Sauropod and by watching a short documentary in Discoveria's mini 3D cinema.
"This is so amazing and I've learnt so much about pre-historic creatures through this visit. This is an absolute dream come true!" Irfan exclaimed enthusiastically.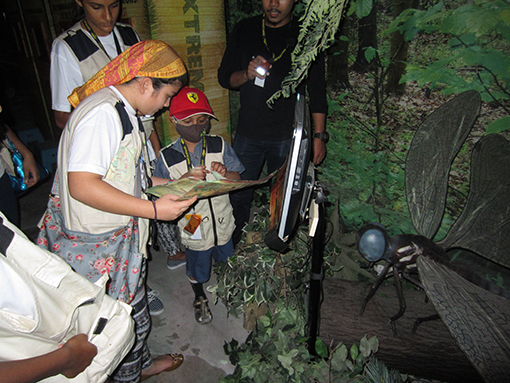 "Fulfilling a wish helps children focus on more positive aspects of living whilst diverting their attention away from the pain and trauma of medical treatment.  We are delighted that GIS and Discoveria helped make Irfan's wish day an unforgettable outing.  The various interactivity in Discoveria has helped Irfan rediscover the joy of learning when he resumes school," said Irene Tan, CEO of Make-A-Wish Malaysia.
Lee Yew Jin, General Manager of EMS Discoveria Sdn Bhd said, "We are pleased to have been able to engage and inspire Irfan to a wider spectrum of education in natural history. It's a joy to see him embrace his passion for dinosaurs." Lee added the event marked Discoveria's first collaboration with Make-A-Wish Malaysia.
Dinoscovery by Dinosaurs Live! is on-going till December 2015. For more information, call 03 2181 7218, log on to www.discoveria.com.my or visit https://www.facebook.com/discoveria.kl.