19 year old Labuan lass Janice Tan crowned Miss KL Earth 2015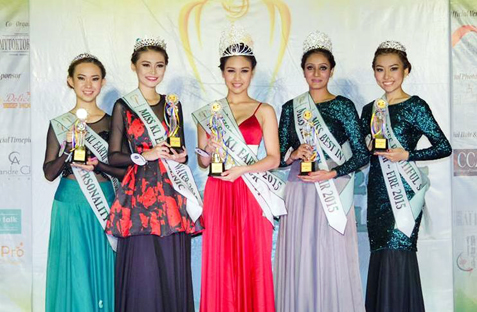 Janice Tan, a 19-year-old student from Labuan, Sabah, was crowned as the Miss KL Earth 2015 at the pageant finals on July 4, 2015 in Cheras Sentral Mall.
The 5' 7" tall lass, of mixed Chinese and Filipino blood, will represent Kuala Lumpur in the national-level Miss Malaysia Earth 2015 pageant grand finals this August 9 in Ipoh.
Tan, a first-year Inti International University student studying Bachelor of Mass Communication (Hons) (Advertising) and a part-time model, was confident in herself by putting her best foot forward to win the pageant crown.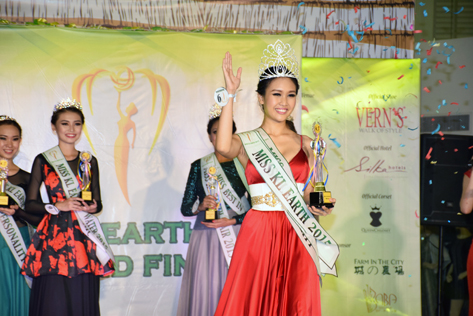 During the Q&A round, she remained composed and answered it with ease to win over the judges.
The question she randomly selected: "What is the best gift you can give to Mother Earth?
Tan replied that the best gift that she can give to mother Earth is the gift of love. "Mother Earth, like all mothers, has sacrificed and blessed us with things that go beyond thanking. Everything around us, the greens, the blue sky, the beaches that we go to and even the oxygen that we breathe is blessed by Mother Earth herself. So the best gift we can give back to Mother Earth is our love by preserving and taking care of the beautiful environment that Mother Earth has blessed us with and because in the end love is the best gift that anyone could ever give," she said to loud applause.
Tan also bagged two subsidiary titles of Miss Glamour Look and Miss Congeniality out of a total of 10 subsidiary titles awarded.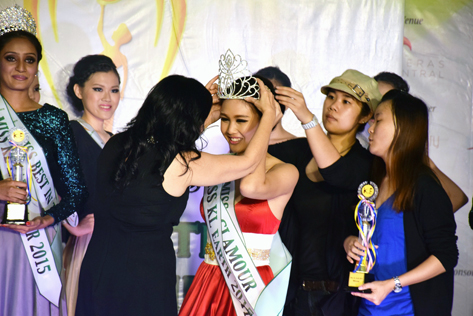 22-year-old Paveetha was named first runner-up (Miss KL Earth-Air 2015), Yoyo Lee 19 (Miss KL Earth-Water 2015) was second runner-up, Anne Lim, 18, (Miss KL Earth-Fire 2015) was third runner-up and Jane Lung, 19, (Miss KL Earth-Eco Tourism 2015) was fourth runner-up.
The panel of judges who made the final decisions were Miss Malaysia Earth 2013 Jojo Tan, Miss Malaysia Model of the World 2008 first runner-up Nicole Sia, Miss Malaysia Earth Eco Tourism 2013 Stefanie Wong, Super Mammi 2013 Janet Wong, model mentor Jimmy Wong, Miss KL Earth 2015 organising chairman June Chow and Cheras Sentral representative Pel Loh.
Cheras Sentral Mall is the official venue sponsor for the Miss KL Earth 2015 grand finals.
MISS KL EARTH 2015
Winner – Miss KL Earth 2015 – Janice Tan, 19
1st Runner-Up (Miss KL Earth-Air 2015) – Paveetha, 22
2nd Runner-Up (Miss KL Earth-Water 2015) – Yoyo Lee, 19
3rd Runner-Up (Miss KL Earth-Fire 2015) – Anne Lim, 18
4th Runner-Up (Miss KL Earth Eco-Tourism 2015) – Jane Lung, 19
Subsidiary Titles Winners
Miss Congeniality – Janice Tan, 19, student/freelance model
Miss Beautiful Smile – Anne Lim, 18, student/freelancer
Miss Glamour Look – Janice Tan, 18, student/freelance model
Miss Photogenic – Yoyo Lee, 19, insurance agent
Miss Best in Talent – Paveetha, 22, sourcing specialist
Miss Friendship – Mico Oon, 22, freelance model
Miss Body Beautiful – Angelia Lim, 22, student
Miss Popularity – Cassie Chee, 22, student
Miss Personality – Jane Lung, 19, student
Miss Beauty For A Cause – Mico Oon, 22, freelance model