"Bubur Lambuk" charity event during Ramadhan in solidarity of Sabahans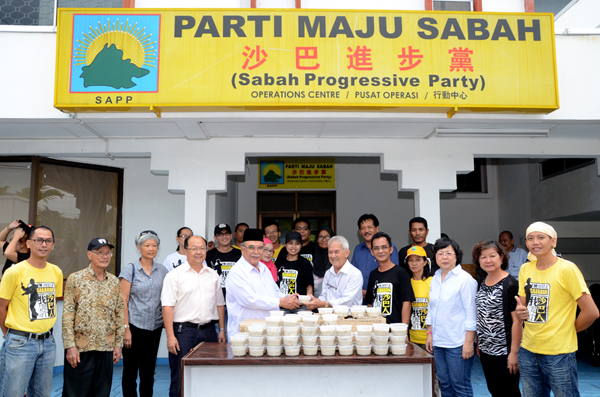 KOTA KINABALU, July 5, 2015: Sabah Progressive Party (SAPP) today organised another "Bubur Lambuk" charity program in Kota Kinabalu, after receiving positive feedback from a recent charity program held on 27 June 2015 in Kundasang.
According to SAPP Youth Chief Jamain Sarudin, this program was aimed at preserving and promoting the 'spirit of solidarity' among Sabahans which was seen during the catastrophic earthquake in Ranau Kundasang, where people from all walks of life came together to help the victims.
The said charity program held here distributed 1,000 packs of porridge called "Bubur Lambuk" to residents around Kota Kinabalu for breaking of fast in the month of Ramadhan.
"It is the first time the program was organized by SAPP Youth which interestingly comprises of various races joining in to participate the cooking of the porridge, as early as 10am.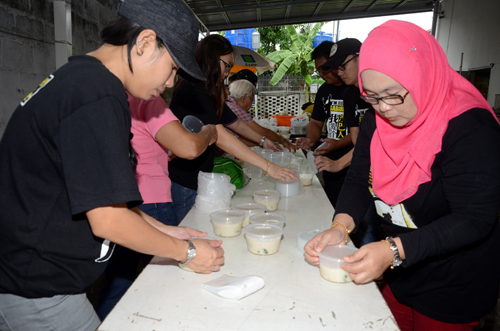 "The headquarters of the party was used to prepare and cooking 1,000 packs of porridge which will then be distributed to residents of Kampung Kopungit, Kampung Warisan, Kampung Unggun, Kampung Lokub and around Tanjung Aru and Putatan which begins at 4:30 pm," noted Jamain.
He said SAPP Youth hoped to continue such programs for years to come with the involvement of the villagers to ensure the success of this charity program.
"The goal of this charitable program is not just to celebrate the month of Ramadan but also shows the spirit of unity among the SAPP members. The program was actively participated by North Borneo Friendship Movement, an NGO, he added.
Also present to witness the distribution of the Bubur Lambuk were former Sabah Finance Minister cum chairman of United Sabah Alliance Datuk Mohd Noor Mansoor, SAPP deputy president Melanie Chia, SAPP Secretary-General Datuk Richard Yong, vice president Datu Shuaib Mutalib, Wanita Chief Chia Miu Lee, and members of SAPP Supreme Council.