Underprivileged children treated to a "Riang Raya" by eCurve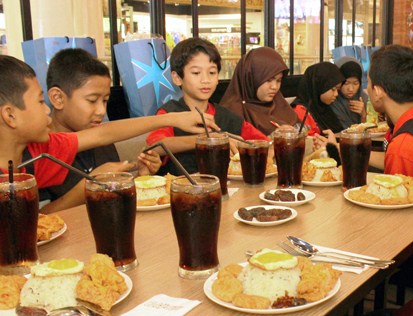 In the spirit of giving during the holy month of Ramadan, eCurve recently treated 18 underprivileged kids from Rumah Titian Kasih, Kuala Lumpur to a breaking-of-fast at its premises.
The children, along with their caretakers were joined by eCurve management staff at the buka puasa dinner at Pelicana Chicken restaurant.
eCurve centre manager Azizul Hisham Ahmad said the annual buka puasa treat was a truly important event which it hoped will help make a positive impact on the lives of the less fortunate.
"This year, with our Raya campaign under the theme Riang Raya focusing on the younger generation, as they celebrate the festive season, it only makes sense to treat these children and teenagers to a celebration of their own.
"We hope it is an unforgettable and wonderful day out for them," he said.
Earlier, the children who arrived with full of cheer were ushered to Cathay Cineplex for a movie treat to watch the newly-released Minions movie.
After the movie, the kids were then ushered to the mall's centre atrium to watch a live performance entitled 'Riang Raya Musical' which saw colourful dancers put on a splendid show of traditional dance and songs of the oncoming Raya festive celebration.
The evening continued with eCurve centre manager Azizul Hisham Ahmad handing out Raya goodies along with duit Raya to the children before they were treated to a buka puasa dinner.
After a sumptuous dinner, big smiles were all around as the children waved goodbye and thanked their host. For the young guests, it was an unforgettable evening filled with fun and good cheer from start to end.