Gatco Settlers Stage Sit In Protest After Denied Access to Bukit Aman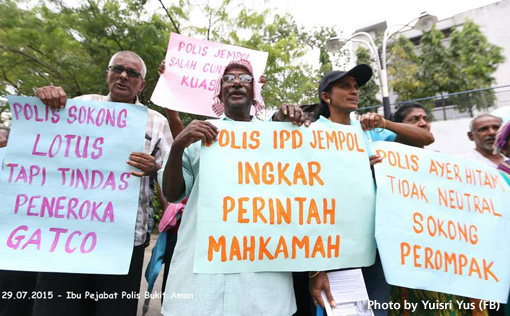 Some 150 settlers from Gatco settlement Jempol delivered a memorandum at Bukit Aman yesterday to highlight the unanswered police reports lodged on alleged gangsterism.
Gatco, also known as Kampung Serampang Indah, was opened in 1977.
The settlers led by Parti Sosialis Malaysia (PSM) secretary general S Arutchelvan delivered the memorandum after they staged a sit-in protest by blocking the main gate.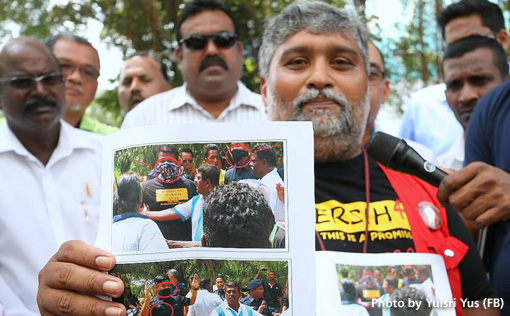 The settlers and its leaders were denied access to complex to handover the memorandum before the resorted to the sit-in protest.
Arutchelvan requested Bukit Aman to take over the investigations of Gatco land as the settlers do not trust the Negri Sembilan police, whom they claim to be with the gangsters who had attacked them recently.
He also said that Gatco settlers were constantly harassed by the gangsters and harmed but the police were not doing anything about it.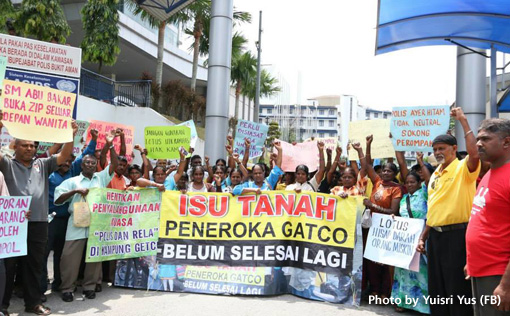 Earlier, The Malaysian Insider previously reported that settlers were worried for their safety after a violent attack last week, where three vehicles were set ablaze by a group of masked men, who also attacked at least three Gatco villagers.
The Gatco land issue which started in 1977 has seen the land title changed hands many times and in 2004, Thamarai Holdings bought the agricultural land for RM16 million.
The settlers have alleged that the auction of the land was not valid and since then, they had been fighting their case, including filing the case in court, in an attempt to get back what they see as their land.