Who will be Miss Malaysia World 2015?
The top 19 finalists in this year's Miss Malaysia World pageant have been chosen with every one of them deserving to become the next Miss Malaysia World 2015.
All the 19 beauties which includes a doctor, a professional model and tertiary students, were announced at a packed press conference at Corus Hotel Kuala Lumpur on August 22, 2015.
"I am very excited to announce this year's finalists and very pleasure to see these smart and beautiful girls blossom into charming and elegant young ladies through their participation in this pageant.
"The girls met the criteria set out, including their self-confidence and presence, their personalities and their ability to represent the pageant themed "Beauty with a Purpose," said Miss Malaysia World 2015 pageant licensee and organizer Dato' Anna Lim.
The 19 contestants drew attention when they came out to the press conference room to introduce themselves briefly and later appeared in their swimwear.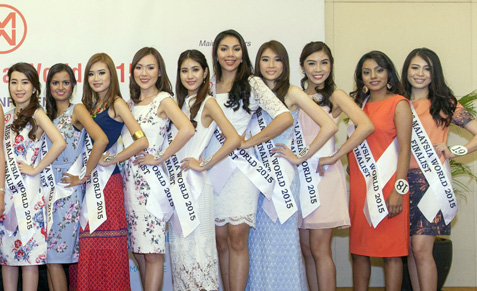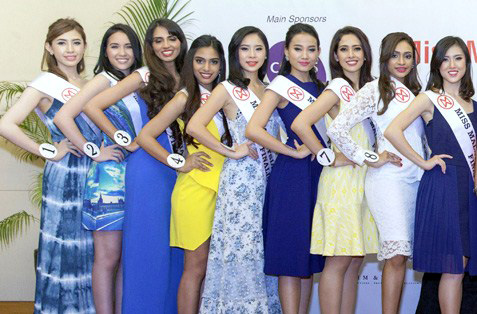 Dato' Anna Lim, herself a former Miss Malaysia Universe 1990 and Mrs Malaysia World 2004/2005 personally selected the finalists by drawing upon her own experiences and knowledge about being a successful beauty queen.
Among the guests present were Corus Hotel Malayisa vice-president Raymond Yeoh, Metrojaya head of marketing and visual merchandising Conny Looi, Miss Malaysia World 2014 Dewi Liana Seriestha, first runner-up Bob Low, second runner-up Cassandra Devi, third runner-up Dhivya Dhyana, and Miss Malaysia World 2013 first runner-up Loreal Mok.
Starting from August 22, the finalists will check into Corus Hotel as their training camp where they will go through a 1–week programme of intensive training to prepare them for the Grand Finals night on August 29, 2015.
With a team of professionals guiding them, the 19 contestants will undergo expert skills training such as personal grooming, runway walking, styling and personal enrichment.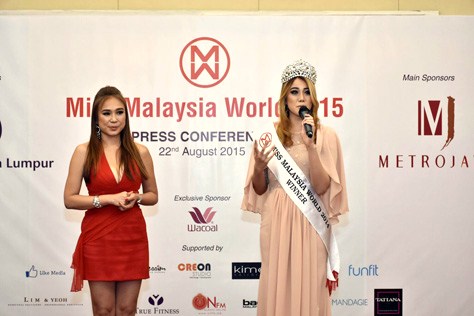 The Grand Finals Night will see the contestants compete in the swimsuit and evening gown rounds to grab the spot in Top 5 and onto the final round for the Q&A session where the winner of Miss Malaysia World 2015 will be decided by a panel of distinguished judges comprising notable personalities in Malaysia.
The title winner of Miss Malaysia World 2015 will win cash and prizes worth up to RM50,000 and will go on to represent Malaysia at the 65th Miss World Finals 2015 in Sanya, Hainan Island, China on December 19 this year.
Miss Malaysia World pageant, being one of the premiere pageants in the country, acknowledged the strong support and commitment from various sponsors, partners and media. This year, similar to last year, the main sponsors for this pageant are Metrojaya and Corus Hotel while the exclusive sponsor is Wacoal.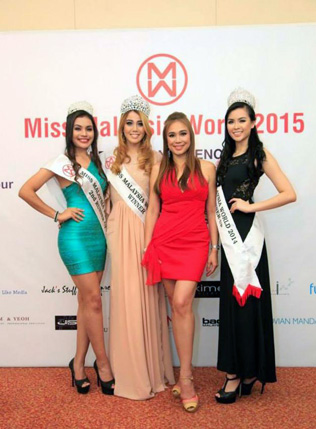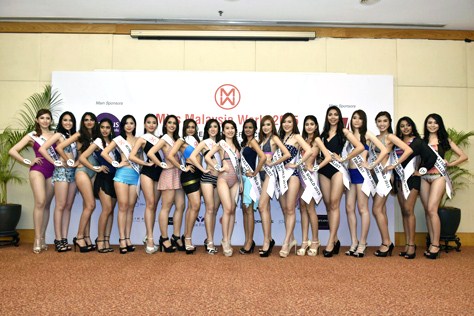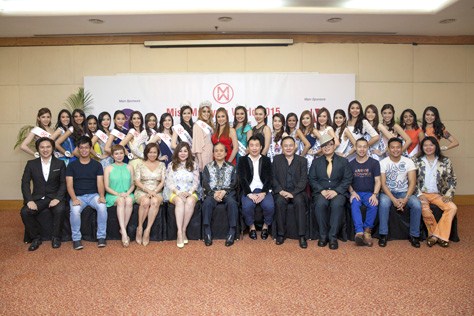 MISS MALAYSIA WORLD 2015 FINALISTS
1. Annie Kok, student (accts & finance), Kuala Lumpur
2. Beatrice Lee, video editor, Petaling Jaya
3. Brynn Lovett, part-time dancer, Sabah
4. Catherine Chow, doctor, Ipoh
5. Crystal Wong, student & freelance model, Penang
6. Dhiva Yogandran, NGO intern, Kuala Lumpur
7. Diana Sim, student (biology) & model, Kuching
8. Ellie Elyana, student (pr & mktg), Kuala Lumpur
9. Grace Yan, student (medicine), Yong Peng
10. Mae-Ziele, student (O-levels), Klang
11. Melinda Lee, professional model, Penang
12. Narishma Tiwari, student (law), Johor Bahru
13. Natasha Aprillia, student (biology), Kota Kinabalu
14. Pareesha Nayar, student (politics, philosophy), Kuala Lumpur
15. Santhawan Boonratana, online entrepreneur & model, Kelantan
16. Serene Chai, student (mass Comm) & actress, Johor Bahru
17. Shindy Kua, student (computer science), Sepang
18. Summer Chia, student (make-up and art), Kuala Lumpur
19. Veena Rajee, senior consultant, Ipoh