Red Shirt Rally: Detailed Account of The Showdown at Chinatown
The rally, officially called 'Himpunan Rakyat Bersatu' was a racially fuelled protest which saw water canon being deployed in a bid to bring protesters back to their senses after ruckus broke out at the entrance of Petaling Street. In what seems to be a deviation of the original purpose of the planned rally which was supposed to have ended peacefully at Padang Merbok.
This is an detailed account of the showdown between the red shirt protesters and the police at Kuala Lumpur's Chinatown yesterday evening as reported by a Citizen Journalists who was at the scene throughout the rally.
Wednesday, September 16
9.00am
Hundreds of people were spotted clad in red shirts around PWTC. This was one of the main converging points for the protesters before marching to Padang Merbok.  At other locations, such as the Federal Territory Mosque (Masjid Wilayah) near Jalan Duta, many busses were seen parked nearby. Crowds of people were also building up at the National Mosque (Masjid Negara). The meeting point outside the National Craft Complex at Jalan Conlay was quiet at the time of reporting.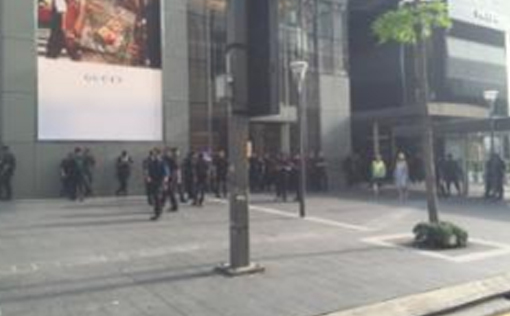 At Bukit Bintang, heavy police presence was spotted near the Pavilion shopping mall and several hotels nearby. However, no protesters were seen in the area. A hotel security source mentioned that the plans have changed as Jalan Conlay is now the main converging point and they will march past Bukit Bintang later in the afternoon.
10.30am
Hundreds of protesters were seen along Jalan Conlay as the crowd has built up near the National Craft Complex and the Royale Chulan Hotel. It was reported that Umno information chief, Ahmad Maslan visited the meeting point on a motorbike convoy in an apparent show of support and unity in conjunction with Malaysia Day.
11.00am
Situation at meeting points begin to heat up as protesters were reportedly burning posters and placards bearing opposition party names in PWTC.
At Jalan Conlay, hundreds of protesters were seen chanting racial and religious slogans, including open display of placards and banners calling for Malay unity and demands for respect towards the Malay race and Islam as the official religion.
12.00pm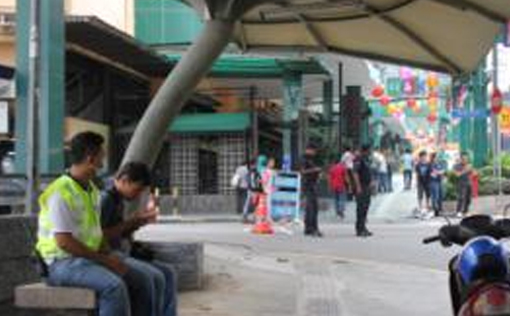 The situation at Bukit Bintang was calm and under control while the police have sentried all entry points and would allow only relevant parties with valid reasons to enter. A huge crowd of protesters were spotted at the driveway of nearby hotel carrying red flags, placards and were heard shouting 'Hidup Melayu' and singing 'Inilah Barisan Kita'.
It was reported that a minor altercation broke out between the protesters behind Pavilion shopping mall, but was brought under control due to police presence.
In a separate incident, police escorted a journalist away from the crowd in Jalan Conlay after participants became offended and annoyed with their questions.
2.00pm
Protesters from various locations started marching from various meeting points with chants of 'Hidup Melayu' and singing 'Inilah Barisan Kita'.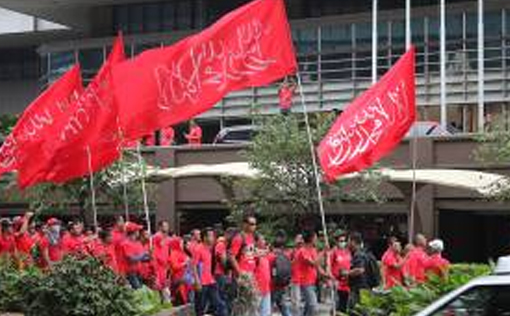 Focus point Chinatown
While the majority of the protesters marched towards Padang Merbok, Citizen Journalist Khen HM headed towards Jalan Tun Tan Cheng Lock from Bukit Bintang via Jalan Sultan Ismail, tailing the crowd after receiving information that there was a deviation from the crowd by the protesters intending to cause trouble at Jalan Petaling (Kuala Lumpur's Chinatown).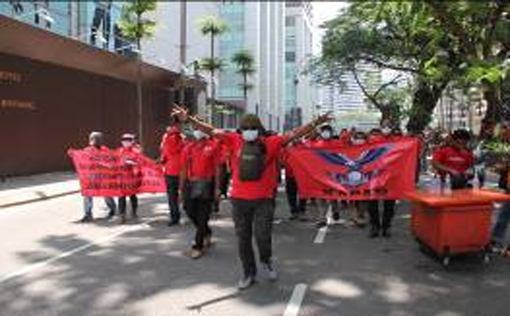 3.00pm
An estimated number of 300 to 400 protesters were seen gathering at the entrance of Kuala Lumpur's Chinatown shopping district, Jalan Petaling in an apparent standoff with the Royal Malaysian Police Federal Reserve Unit (FRU) at Jalan Tun Tan Cheng Lock. Negotiations were underway as the crowd were heard chanting racially provocative slogans.
4.00pm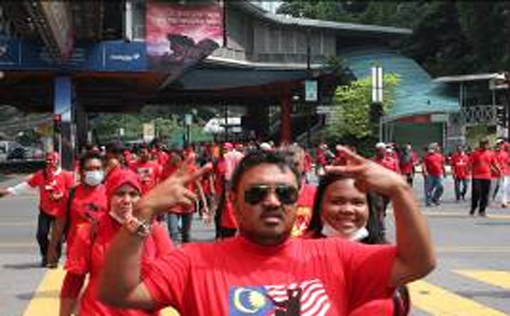 The crowd swelled up to an estimated 700 to 800 protesters as tensions escalated. Protesters have been trying to force their way in by breaching the police barricade in order to enter Jalan Petaling. At least five FRU trucks were seen on standby along Jalan Tun Tan Cheng Lock.
At about 4.15pm a commotion broke out at the entrance of the Kota Raya shopping complex but was only short-lived as police and security personnel managed to control the situation. Protesters were heard shouting 'Melayu menang' as they left the scene.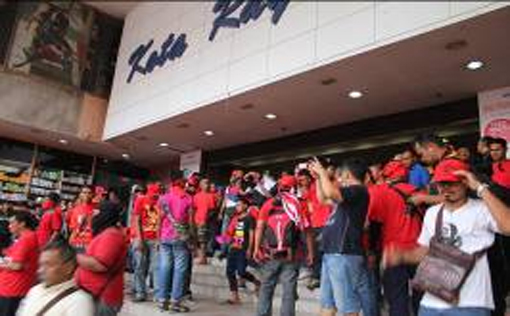 5.00pm
The FRU briefly fired water canon against the rowdy protesters after several warning to disperse went unheeded. The unruly protesters hurled bottles, rocks, traffic cones, including fire crackers at police officers manning the barricade into Jalan Petaling. At least two policemen and one protester were reported to have been injured in the fracas and were given immediate medical attention. Two protesters were detained by police for rioting.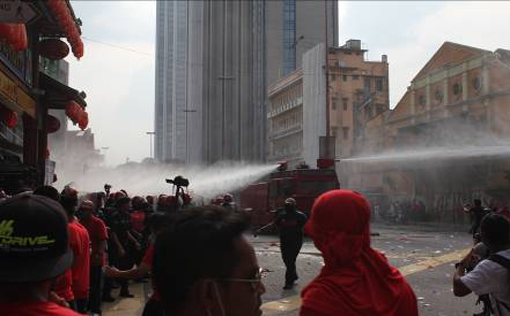 6.00pm
Negotiations went stale between the protest leaders such as the Deputy Foreign Minister Datuk Seri Reezal Merican and Federal Territory Umno Youth Chief Mohd Razlan Rafii with the Dang Wangi district police chief Zainol Samah. Despite several orders to disperse, the protest leaders were not heeding. Instead, they were insistent on entering Jalan Petaling due to its significance as a Chinese business stronghold. Nevertheless, the police would not further compromise with their demands.
7.00pm
Sungai Besar Umno division chief Datuk Jamal arrived at the scene and urged protesters to disperse, while demanded that the Home Ministry to take action against the Chinatown traders. Despite denying any links with the crowd of protesters, he promised to return with another demo after a week if no action is taken.
The crowd was seen to slowly disperse shortly after Jamal's call.
8.00pm
The police advised the media personnel to stay behind police lines for safety while stubborn protesters who were still seen loitering around Jalan Tun Tan Cheng Lock near the Jalan Petaling entrance. By 8.30pm, peace and order has been restored and Jalan Petaling was open to the public.
Heavy police presence were still visible along Jalan Tun Tan Cheng Lock, minus the FRU as majority of the protesters have already dispersed.