Bikers Unite to Celebrate Diversity on Malaysia Day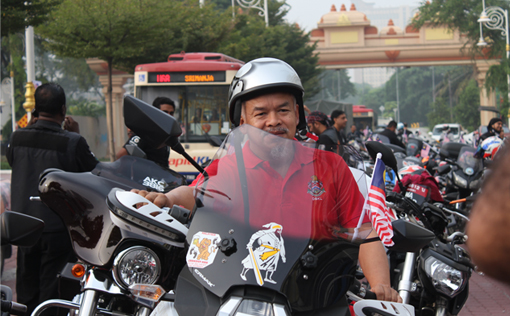 200 bikers gathered at Dataran Brickfields on Malaysia Day to join the first ever The Malaysia Day Unity Ride 2015. Organized by MIC Youth and the Road Safety Marshal Club (RSMC) with the support of 15 NGOs it was held with the objective to promote unity by educating the youth towards acceptance and interracial tolerance.
The event was was flagged off by MIC president Datuk Seri S. Subramaniam at 9.00am. According to the event itinerary, the riders are scheduled to depart from Brickfields to Titiwangsa lake, Ampang and Putrajaya as the final destination.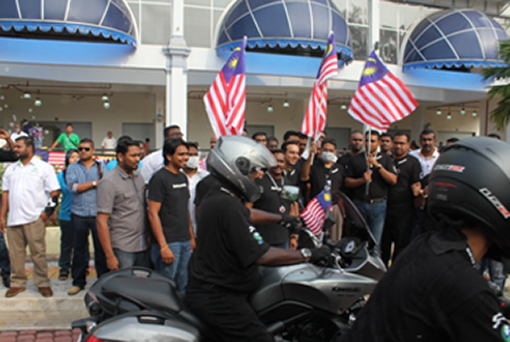 MIC Youth chief, Sivarraajh Chandran said in his speech that he hoped through this event Malaysians from different ethnicities are able to come together and unite as one during the event in order to achieve a common goal putting aside our differences.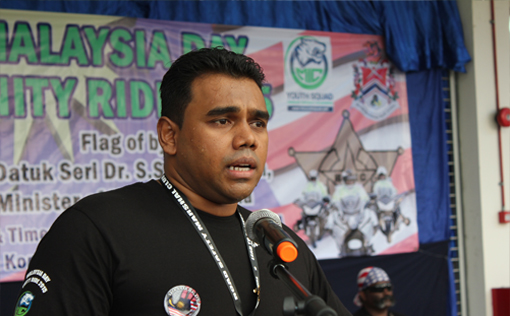 "The idea of having a motorsports event is also attractive towards youth across different ethnicities that we Malaysians have something in common to share" he added.
The organizing committee gathered for a cake cutting ceremony in conjunction with Malaysia Day, which also coincides with Sivarraajh's birthday. On the cake, it was designed with the wordings 'Kami Anak Malaysia'.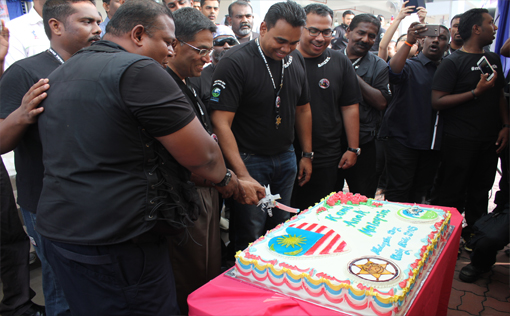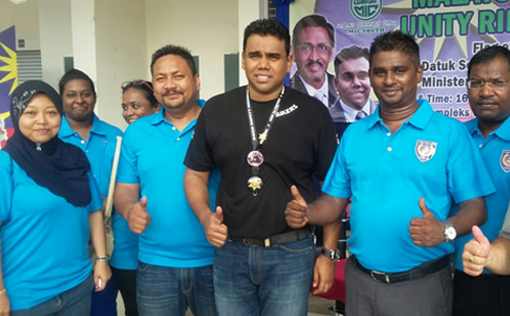 The members of National Crime Prevention Network Association (NCPNA) were also present at the event to show support. Alex Chandran, President of the NCPNA  said "We believe in embracing interracial harmony as a key towards uniting Malaysians against crime. Crime does not discriminate one's racial affiliation and is colour blind"
Two other members of the association, Fezrizal Aziz and Joseph Fernandez also share the same reason for their support.
"I want people to know that it is very wrong to intimidate one another based on racial lines as we are a growing nation and we need to depend on our community to move forward. By being here, I support the association's objective in being a neutral organization in promoting healthy activities to our youth" said Joseph Fernandez.
"I hope that this event could be held more frequently as it is very beneficial and relevant to our society needs towards nation building and social integration" said Fezrizal Aziz.
Rashidi from the Gombak Bikers Club says that he was here to celebrate Malaysia Day along with his club by distributing Malaysian flags. "The event is also beneficial to bikers as it promotes road safety, which is one of the main reasons why I am fully supporting it" he said.
He hopes that by participating in this event, it would be a showcase to the public that Malaysia is still a very safe place to live in and are free to move at liberty despite all the negative rumours on the perception that Kuala Lumpur was a dangerous place to be on that day.