Sea Park Celebrates Mid-Autumn Festival by Giving to Senior Citizens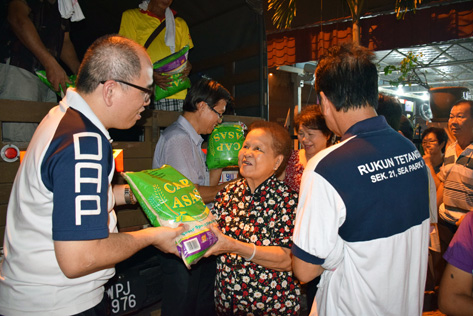 Nearly 600 residents, young and old, turned up for the Chinese Mid-Autumn Festival celebration at Section 21 Sea Park, Petaling Jaya on Sept 26, 2015.
The highlight of the event was the distribution of 5kg packets of rice and trays of 30-egg to senior citizens aged 60 and above. An estimated 400 senior citizens benefited.
The event was jointly organised by Sea Park Rukun Tetangga (RT), Sea Park Residents Association (RA) and Sea Park Poh Toh Association and held annually to promote neighbourhood camaraderie.
"Bringing residents together helps strengthen community ties and we are happy to see the residents come together interacting and enjoying themselves like one big happy family," said Sea Park RT chairman Gan Keng.
Gan said the distribution of rice was to show love, admiration and respect to senior citizens and they had included eggs for distribution this year.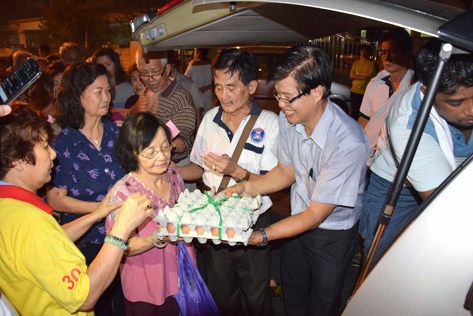 Residents enjoyed the traditional mooncake delicacy and other foodstuff like nasi lemak and prawn crackers.
Mooncake is a traditional delicacy that is eaten during Mid-Autumn Festival.
After eating mooncakes, the children lit up the coloured paper lanterns which were distributed free.
There was also an entertaining karaoke to get everyone in the festive mood with several residents sang a variety of songs on the karaoke and having fun and time for camaraderie and celebration.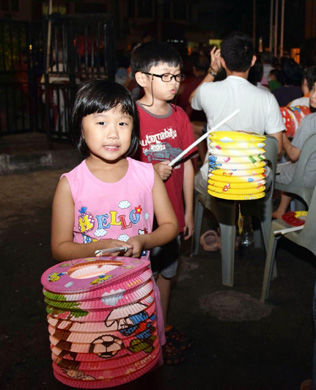 Those who attended the event included Kampung Tunku state assemblyman Lau Weng San and  Petaling Jaya Utara MCA division deputy chairman Ch'ng Soo Chau who wished all present a happy Mid-Autumn Festival.
The evening ended with a beautiful fireworks lighting up the night sky.
The Mid-Autumn Festival or sometimes referred to as Mooncake Festival or Lantern Festival is a Chinese festival celebrated annually on the 15th day of the eight lunar month in the Chinese calendar. This year it fell on Sept 27.