Masterchef Champ Dr Ezani Demonstrates Innovative Cooking Method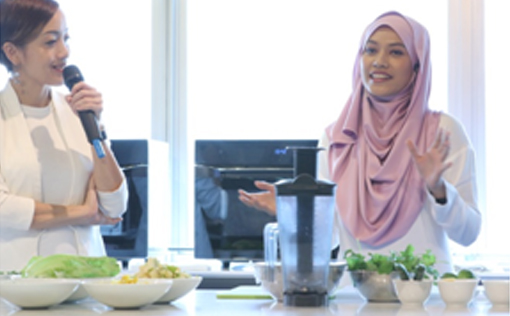 Samsung Malaysia Electronics recently held an exclusive hearty indulgence cooking workshop to demonstrate how delicious meals can be easily prepared despite juggling busy lifestyles through smart living.
Working together with renowned chef and winner of Season 1 Masterchef Malaysia Dr Ezani Monoto, using the brand's latest innovative kitchen appliances, the HotBlast™ Smart Oven and the Food Showcase Refrigerator (FSR) a hearty three-course meal was unveiled to Malaysians, prepared conveniently without compromising on precious time or effort.
The workshop, hosted by popular celebrity emcee Serena C, featured recipes of a three-course meal created by the MasterChef champion herself. The cooking workshop comprised of the preparation of a Fruity Salad followed by a hearty main dish of roasted chicken drizzled with green yogurt and served with turmeric spiced potatoes. It was a sweet ending as Dr Ezani concluded the demonstration with a preparation of her signature Merry Berry Pavlova.
"Hearty and freshly prepared meals is an urgent priority which most of us tend to overlook, especially with our hectic schedules. But we are here today to tell you that this can change." shared Dr Ezani Monoto, dentist, wife and mother of a 3-month old baby.
The ingredients used to prepare all three dishes were stored in Samsung's Food Showcase Refrigerator (FSR), to help keep food fresh for a longer period; and were cooked with the brand's innovative HotBlast™ Smart Oven.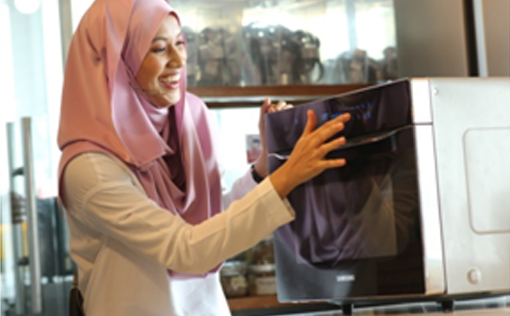 The smart oven enables consumers to manage and master the entire cooking process from start to finish. Equipped with innovative food preparation technology, the oven can cook food to exquisite perfection and in shorter time, enhancing the way home cooked food is made.
The FSR combines outstanding looks with clever internal storage design and innovative fridge technology that creates more space allowing for efficient organisation of food items with the different compartments. The compartments also help keep produce fresher for a longer period and will not perish before its time.

"It is the combination of expert collaboration and real life insights that helps us to continue to innovate and meet the evolving needs and wants of consumers." said Elaine Soh, Corporate Marketing Director, Samsung Malaysia Electronics. 
Available at all Samsung authorized stores, the recommended retail price for Samsung's HotBlast™ Smart Oven is retailing at RRP RM2,499 and the Samsung Food ShowCase Refrigerator (FSR) at RM11,399 (inclusive of 6% GST).