Xixili's Breast Cancer Awareness Campaign Kicks Off 10th year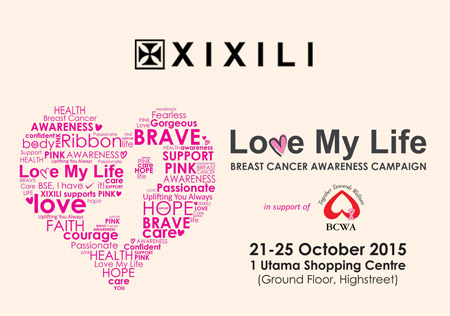 In conjunction with the Pink Ribbon October month, local undergarments maker Xixili will host its annual breast cancer awareness campaign called Love My Life from October 21-25, 2015 at Ground Floor, Highstreet of 1 Utama Shopping Centre, Petaling Jaya.
This year marks a milestone for Xixili as it celebrates 10 years of promoting breast cancer awareness through educational talks and activities in support of Breast Cancer Welfare Association (BCWA).
By collaborating with brands and retailers in the beauty, hair, fashion, fitness and F&B industries, Xixili aims to bring together a holistic, lifestyle-driven event to promote breast cancer awareness and fundraise for BCWA, and at the same time provides fun-and-engaging experience for shoppers.
The 3-day event will include interactive and educational activities, breast health consultations,  grooming services, games, photo booth selfies and a pink ribbon visual art display by renowned artist Louise Low and Saito College.
Among the highlights will be Clinical Breast Examination (CBE) by BCWA Team, Pink Walk fashion show by cancer survivors and supporters, dance performance by Celebrity Fitness and fundraising through sales of pink items and public donations.
There will also have demos on pink power juicer, make-up by Shu Uemura and hair styling by Number76.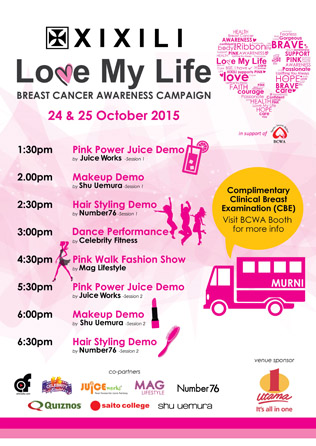 In line with the 'Love My Life' campaign, Xixili will commence sales of the annual Xixili 2016 Calendar. Each calendar will include a step-by-step guide on 'how to perform Breast Self-Examination (BSE) and various breast-health related facts on each month's calendar page to serve as a reminder to practice  (BSE).
The Xixili 2016 Calendar can be bought with a gift-with-purchase promotion at all Xixili outlets from November 2015 onward.