Khairy Rocks The Runway with 24 Breast Cancer Survivors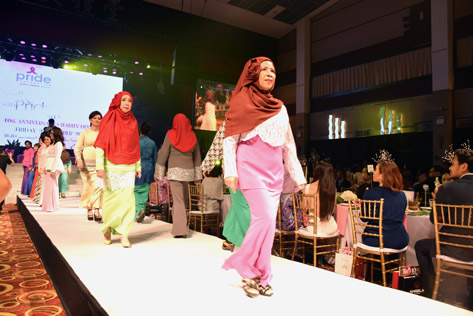 24 breast cancer survivors took the runway at the "Walk With Pride 2015" charity dinner show at HGH Convention Hall, Sentul, Kuala Lumpur on 23 October 2015.
Like catwalk models, the women wearing collection from fashion designer Melinda Ooi walked down the runway with their heads held high to roaring applause.
Apart from the fashion show, the women also performed four theme dances namely Walk With Pride, Sail With Pride, Ride With Pride and Climb With Pride.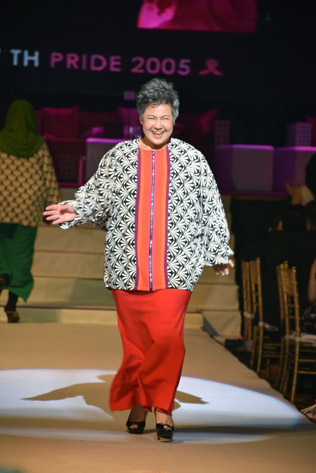 Male celebrities including Aaron Aziz, Fahrin  Ahmad, Joey G, and Malaysia's first top male supermodel Wilson Tan also appeared on the catwalk clad in smart attires sponsored by Bespoked by Ian Chang.
Youth and Sports Minister Khairy Jamaluddin got inspired and joined them on the catwalk to the surprised guests.
Pride Foundation chairman Dato' Azrene Abdullah thanked sponsors, organizations and individuals who cared for patients in need of financial aids and their generosity would go a long way to help breast cancer patients.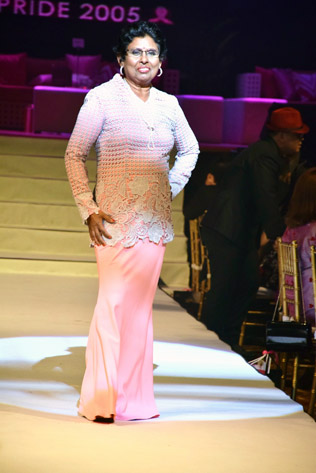 Some 750 guests, including guest of honour former prime minister Tun Abdullah Badawi, attended the 10th anniversary dinner which raised RM750,000 for Pride Patient Fund and Pride-UMMC Palliative Care Centre.
The presence of beauty queens and celebrities added glitz and glamour to the event and this included Miss Malaysia World 2015 first runner-up Serene Chia Yong Bin and second runner-up Melinda Lee Chen Ling, Mrs Malaysia Petite World 2015 Cecelia Lee Sook Tieng, Classic Mrs Global United 2015 Look Kah Hui, Mrs Malaysia Universe 2015 fourth runner-up Samantha Loh and Mrs Classic Malaysia Global United 2013 and Miss & Mrs Malaysia Petite World 2015 organiser Madam Lim Siew Cheng.