Children Get Zoo Treat As Carlsberg Malaysia Adopts 3 Elephants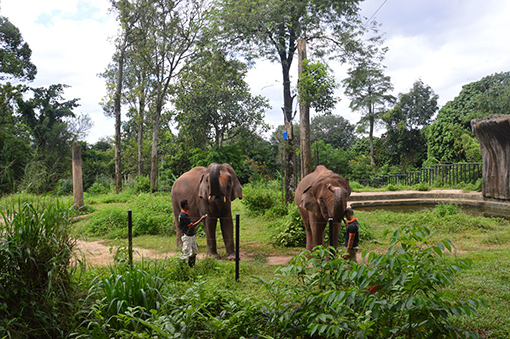 In this season for giving, philanthropic arm of Carlsberg Malaysia  J.C. Jacobsen Foundation pledged a cash sponsorship of RM20,000 for the care and upkeep of three Malaysian elephants at Zoo Negara.
To celebrate the occasion, female elephants, Siti and Sibol, and the newly adopted male elephant Teriang had a group of children with disabilities from Jabatan Kebajikan Masyarakat Malaysia's Community Rehabilitation Programme (PDK) drop by to visit  them at the zoo. The 24 children and 11 guardians were taken around the zoo, which included a visit to the adopted elephants as well as the China-born male giant panda Xing Xing at the panda enclosure.
Foundation Executive Director Pearl Lai presented a sponsorship cheque to Junaidi Bin Omar, Head of Education, Public Relations & Marketing Department of the Malaysian Zoological Society. The cash sponsorship subsidizes the maintenance and medical care of the Pahang-born trio of gentle giants aged 36, 37 and 35 years old respectively.
Lai said "This is a double celebration as we not only welcome our third elephant but are able to provide the children from the Welfare Department PDK programme with this opportunity to visit the zoo. Animal conservation is an important aspect of a country progressing in a sustainable way and with this trip to the zoo, we hope the children will have a memorable time, while learning more about our animals and the need to protect and care for them."
Lai added "As Malaysian elephants face extinction due to clearance and destroying of rain forests, the Foundation is grateful to be able to provide for the care of these elephants here at the zoo and to do our part to support animal care and conservation in Malaysia."
According to Lai, the elephant is an iconic and historic symbol for the Carlsberg Group. She commented: "Elephants symbolize strength and faithfulness. The four life-sized elephants were carved to represent the four children of visionary founder Carl Jacobsen. The Elephant Gates, as it became known, is located at entrance to the Carlsberg Group Headquarters and is a popular tourist site in Copenhagen, Denmark."
Prior to the Foundation being established, Carlsberg Malaysia had been contributing RM15,000 each year for the care of the first two elephants since 1986, bringing the total contribution including the 2016 sponsorship to RM300,000.
The annual cash sponsorship will see the elephants having a daily intake of 300kg of food, which includes fruits like papaya, banana and watermelon. All three elephants are together in a large enclosure that comes complete with a water feature for their play-time, while the space allows them the freedom to move around comfortably.