Fun-filled Day for Taman Paramount Residents at Year End Party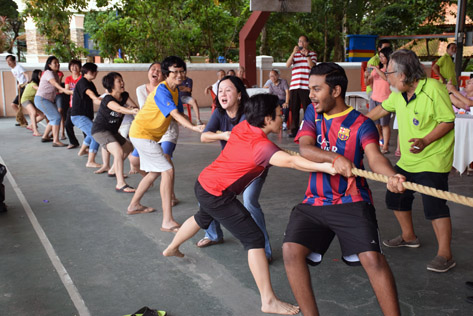 To end the year on a high note and start the new year fresh, the neighbourhood watch group Rukun Tetangga (RT) Seksyen 20A Taman Paramount in Petaling Jaya organised an afternoon Hi-Tea for the residents on Dec 20, 2015.
The basketball court in Jalan 20/19 was filled with food, game activities, prizes and residents, young and old, who gathered in high spirits for the "Jamuan Mesra Hujung Tahun" or Year-End Hi-Tea party.
RT Seksyen 20A Taman Paramount chairman Kong Poh Heon said the event was aimed at promoting neighbourly interaction, harmony and good communal relations amongst residents.
"I am very happy to see the residents enjoying themselves having conversations and interacting with one another as one big family. When there is good neighbourliness, the community will be friendlier looking out for each other and helping each other out, and this will help build a happy, safer and friendlier Section 20A," said Kong.
A welcoming speech by Kong started the fun-filled afternoon tea party with the residents enjoying the arrays of food from the buffet, fun games including tug of war and lucky draws with prizes for everyone.
Among the invited guests who were present at the event were Petaling Jaya Utara MP Tony Pua and Taman Paramount Residents Association committee member Rachel Hew.