New Chevrolet Owner Wins Trip to Old Trafford
Chevrolet buyer Pung Seu Kin won a free 6-Days 4-Nights trip to London/Manchester for two to watch the English Premier League match between Manchester United and Chelsea at Old Trafford on Dec 29, 2015.
Pung had bought a Chevrolet Colorado from Boston Auto Sdn Bhd during the Chevrolet Year-End promotion campaign that offered cash rebates of up to RM20,000 and which entitled her to participate in the 'Manchester United for Life' contest. Boston Auto Sdn Bhd is Chevrolet's official dealer in Sandakan, Kota Kinabalu.
"I have been thinking about buying a Chevrolet for awhile and being a Manchester United fan, the incentives and contest helped me make the decision.
"What a great reward for buying a Chevrolet! I am grateful to Chevrolet for winning this great free prize to see my beloved team play in Old Trafford, and I am certainly looking forward to meeting past legends of the club at the VIP Hospitality Suite," said a happy and excited Pung.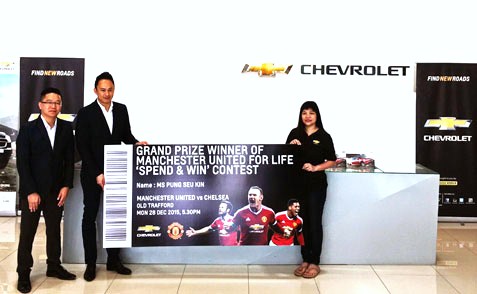 Naza Quest vice president 1 Thoo Ai Wuen said the Chevrolet Year End campaign was aimed to provide potential customers with enticing rewards. Thirty Chevrolet showrooms in east and west Malaysia took part in the year-end promotion that offered cash rebates of up to RM20,000 and a chance to chance to watch Manchester United play at Old Trafford.
"We saw a significant increase in visits to our dealers' showrooms.  To all our customers who bought a Chevrolet, we would like to say a big thank you and to our contest winner Pung Seu Kin, congratulations and we trust you will have a wonderful experience at Old Trafford. Indeed, owning a Chevrolet is more rewarding." said Thoo.
Naza Quest is the sole and exclusive authorized distributor of General Motors products under the Chevrolet brands in Malaysia.