Fun and Glitz at First M'sian Male Supermodel's Birthday Bash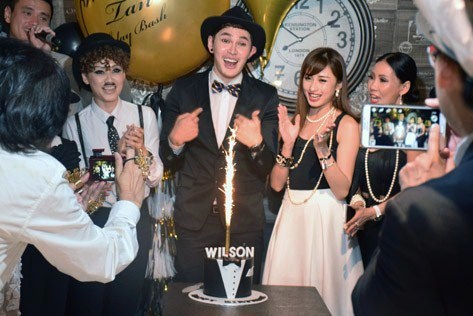 Malaysia's top male supermodel Wilson Tan celebrated his 34th birthday by throwing a star-studded bash at Charlie Chaplin Café in One City Mall, USJ on Jan 28, 2016.
The Wilson Tan Birthday Bash went off with a bang with sparkler firework candle shooting out of the tuxedo-shaped birthday cake, followed by champagne bottle opening and toasting and a live function band providing guests with a night to remember.
The birthday boy enjoyed himself dressed up like the legendary comic actor Charlie Chaplin – with moustache, bowler hat and walking cane – and greeted guests as they arrived to wish him "Happy Birthday."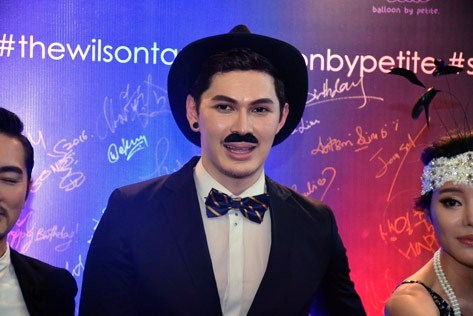 The evening saw a slew of glitterati guests came dressed appropriately where the dress code was retro black and white with Charlie Chaplin style.
"I thank everyone for all the kind words and wonderful birthday wishes and gifts and I hope all of you will be in good health all the time.
"My birthday wish is to upgrade every aspect of myself to another level becoming better in knowledge, skills, lifestyle and everything else," said Tan.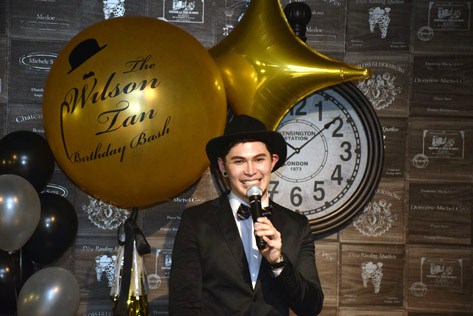 On the Charlie Chaplin themed birthday, Tan said, "I chose the Charlie Chaplin concept because I really like his role, its always funny and bring laughter and happiness to everyone.
"This specifically themed dress code is quite unique. In fact I am quite surprised when many of my guests dressed nicely in Charlie Chaplin and Great Gatsby 1920s style."
The momentous birthday celebration saw everyone enjoyed good company, fun games, lovely wine and fine food accompanied by live music performance.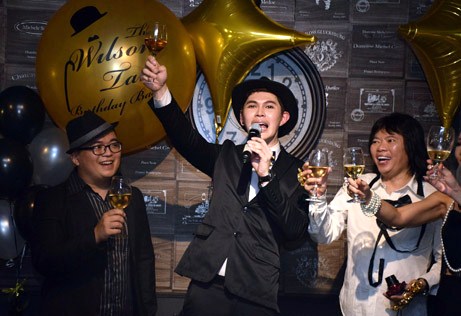 Wilson Tan is a popular name and a renowned face in the local and international fashion realm. He is one of the most sought after top celebrity male model in the fashion catwalk and events, magazines, commercials and talk shows in Malaysia.
The Perak-born with a towering height of 6' 3" (190 cm) is a pure Malaysian Chinese but has a mixed blood look. A USM engineering graduate and had worked as a chemical and project engineer before he quit his job to pursue his long held passion for modelling full time which proved to be a well-made and rewarding decision because he has had a remarkable string of successes in so many avenues and platforms and never had to look back since then.
He has won many accolades as a model including Malaysia Top Fashion Model Of The Year 2014 (male category), Asia Best Model Awards / Model Top Star Awards at the 6th Asia Model Festival Awards 2011, Seoul Korea, The Outstanding Young Malaysian Awards 2012 at JW Marriot Hotel, Kuala Lumpur,  Model Industrial Awards 2009 (USA) and Silver medal winner (casual and formal wear category) of World Championship Of Performing Arts (WCOPA) 2009 in Hollywood, Los Angeles.
All his hard work and efforts had finally paid off, he became Malaysia's first male supermodel.