Multiracial Crowd at Selangor State CNY Open House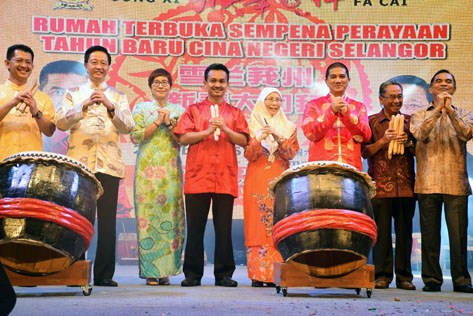 The Selangor state government held its 2016 Chinese New Year Open House at Dataran Petaling Jaya on 20 Feb 2016.
A pair of prancing lions greeted the arrival of Menteri Besar Datuk Seri Mohamed Azmin Ali. The event was attended by a large crowd estimated at 10,000. Present included Selangor state executives councilors, Petaling Jaya mayor Mohd Azizi Mohd Zain, city councilors, MPs and state assemblymen.
In his speech, Azmin said he was happy to see the large turnout of multi-racial crowd at the open house. "Gong xi fa chai, xin nian kuai le, nian nian hao, xin nian hao," said Azmin in wishing everyone present a Happy Chinese New Year.
"Selangor is a multi-racial and multi-religious society. It is very important that we focus on the many common things that we have together rather then become obsessed with the differences between us. In this way, I strongly believe we can build an open stronger and united society.
"Selangor has been able to maintain its social harmony because different communities chose to live side by side with one another. Tonight if you look around, we have guests among the Malays, Indians, Chinese and all races and religions who join us tonight to celebrate Gong Xi Fa Cai.
"This is the reality. We are together. Wo Men Du Shi Yi Jia Ren (We are all one family), " said Azmin to loud applause.
Visitors of all races were seen enjoying the spread of Malaysian delicacies at the many food stalls set up while being entertained with cultural performances, including a Chinese version wayang kulit.
Excited children lined up in long lines to receive ang pow from the hosts. Petaling Jaya City Council (MBPJ) provided free bus rides to the public from various designated parking areas to the venue.