Festival Showcases Avant-Garde Hairdos at Zouk KL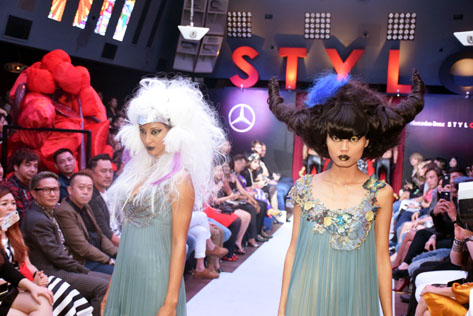 Hairstylists from 12 top salons and professionals of Malaysian Hairdressing Association (MHA) wowed guests with their "hair-raising" show on the opening night at the Mercedes Benz Stylo Asia Fashion Festival 2016 (MBSTYLOAFF) from March 4-6 at Zouk Kuala Lumpur.
The extraordinary hairdos took centre stage with "Rapunzel, Rapunzel, Rapunzel" which saw 18 models donned imaginative avant-garde hair creations beautifully constructed into the hair by these professional hairstylists, with dresses provided by designer Beatrice Looi.
Themed, "The Hall of Plenty", the grand opening night of the much awaited event was commemorated by a ribbon-cutting ceremony led by MBSTYLOAFF chairman and Stylo International president and CEO Datuk Nancy Yeoh, Mercedes-Benz Malaysia sales & marketing vice president Mark Raine, MBSTYLOAFF honorary advisor Datuk Prof (Dr) Jimmy Choo OBE, ZoukClub executive director and founder Cher Ng, A Cut Above Group CEO and creative director Datin Winnie Loo, Empro Cosmestics founder Dr CocoAlex Yeoh, Malaysian Footwear Manufacturers' Association representative Maggie Chan.
"We are pleased to present the Asia Fashion Festival in celebration of all things that are creatively weird and wonderful," she said, adding that, "we will continue to push the envelope in showcasing the best of Asian and Malaysian fashion to the world."
The opening night ended with a grand finale photo opportunity with hair stylists, models, designers, muses and festival partners on stage followed by an after-show party at Zouk's Imperial.