Up Close With 3 Of Miss Malaysia World 2016 Finalists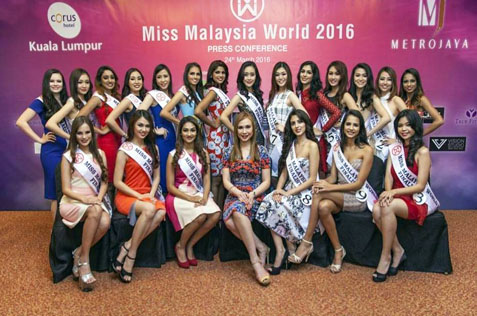 After going through several thousands of applications received from all over the country with interview sessions conducted in the UK and at the Corus Hotel Kuala Lumpur the full line-up of 20 finalists for this year's Miss Malaysia World 2016 has been revealed.
Miss Malaysia World 2016 pageant organiser, licensee and national director Dato' Anna Lim  told a packed press conference on March 24 at Corus Hotel, the pageant's official hotel that beautiful talented girls, aged from 17 to 25 years old, were selected based on a number of strict criterias.
"Your steadfast focus and dedication have brought you this far. Whatever the outcome, you'll always cherish this experience of being here with the rest of your pageant family. Enjoy every moment and be your best self. We wish you all good luck," Lim said in congratulating the girls.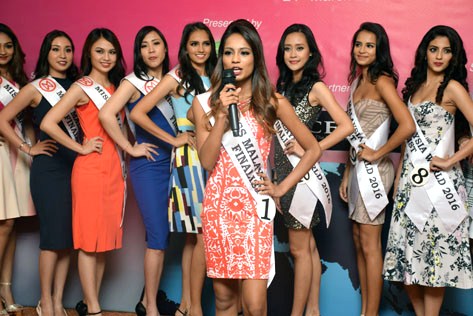 The girls will undergo full training at camp in Corus Hotel for a week from August 20 – 27 to prepare them for the grand finals. One of the girls will win the coveted title at the grand finale on August 27 and will get an opportunity to represent Malaysia on the international stage at the 66th edition Miss World 2016 pageant.
Citizen Journalists Malaysia (CJMY) spoke to three of the finalists, Janice Tan, Dr Ranmeet Jassal and Ushaanthini Puttharasan, who were all smiles showing full of promise and potential to become the next Miss Malaysia World 2016 beauty queen.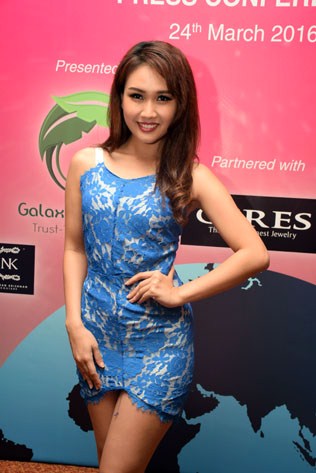 Labuan-born Janice Tan, 19, a Mass Communication student at INTI International University, Nilai and of mixed Chinese and Filipino blood, said her inspirational parents were the reason for entering pageants.
"Since young I have always loved princesses, fairies and of course pageant queens. My mom always said to me that one day I will have the opportunity to stand on the stage and be like the crowned winner. I believe in turning my passion to my purpose and I am beautifully passionate for a world with a better tomorrow."
What she hopes to achieve by taking part in Miss Malaysia World 2016 pageant?
"I want to turn a good intention into action. I want to see how the community can work together to help other people and be part of that community.  I also want to learn more about my own capabilities and to nurture them to make me a better person. Best of all I want to come out of this pageant with new family and friends as the bonding among contestants, mentors and everyone involved is irreplaceable."
What are her chances to become the next Miss Malaysia World 2016?
"I am confident of winning the title but all the other contestants have the qualities of a potential winner. So I believe every one of us stands a very good chance. I would like to thank my parents for always supporting me in everything I do, my friends who have always been there for me and the inspiring Dato' Anna who gave me the once in a lifetime opportunity to be a part of the Miss Malaysia World 2016 family."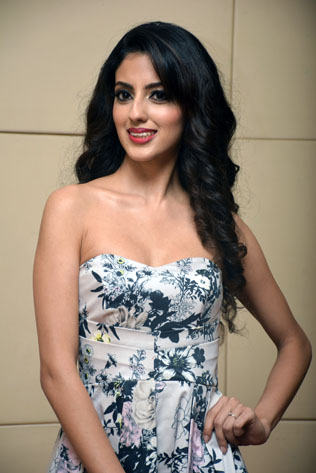 Dr Ranmeet Jassal, 24, said she looked up to Miss World 1994 Aishwarya Rai from India for her good looks and kindness as her inspiration to take up the contest.
"I was very young at that point of time, and as I was growing up, I started watching beauty pageants. For the past five years, I could not do all this because I was studying in India. I studied medicine and graduated recently and because I studied in India I needed to serve the Indian government for a year. So I completed my internship in India and now I have come back to Malaysia and waiting for my housemanship placement. The wait is very long so why not I join the pageant.
"My parents have always brought us up in a way where they always wanted us to go out there to achieve our dreams."
Ranmeet has proved that good looks run in the family after qualifying for the Miss Malaysia World 2016 finals on her first attempt at a pageant.
"My mom was crowned Mrs Malaysia World 2015 in the classic category last year. She's above 50. And this year my sister Kiran Jassal, who is five years younger to me, won the Miss Universe Malaysia 2016 crown two months back. This is my first beauty pageant I entered so I hope to be able to follow in the footsteps of my mum and sister by taking home the crown of Miss Malaysia World."
So what she thinks of her chances in winning the Miss Malaysia World title?
"I think the girls are great. They are amazing girls. I am a very open person. If I win, it would be great to create history along with my mum and sister and represent my country. If I don't win, it would be a blessing as well because it is a beautiful journey where I meet amazing people, and it's an experience for me to tell my kids one day, 'Oh mummy joined the pageant and is not just a doctor.
"What I like about this pageant is the beauty with a purpose (BWAP) aspect of it. Going out to serve the community with a useful purpose that cared for disadvantaged children. I strongly believe in giving back to the community that we cared about."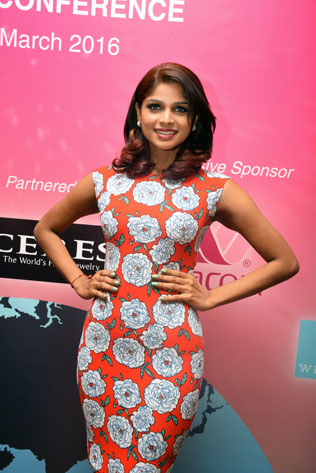 For 23-year old Ushaanthini Puttharasan, a second year medical student at MAHSA Petaling Jaya, she has always wanted to join the Miss World pageant.
"Previously I had joined the GIF Model Search 2014 as one of the finalists. I always wanted to join Miss World pageant so I used to like go through Facebook and Miss World websites. The prestigious pageant which started 65 years is so well known I want to give it a try.
"I am currently involved in Pure Life Society charity events and since I am a medical student, this pageant has given me an opportunity to reach out to the community and make a difference in their lives. So people will recognize me and I will be able to inspire them in the sense I could help provide medical service to the disabled kids and cancer patients. I am also looking forward to having more opportunities of working with other charity bodies."
So what is her chances of winning the pageant?
"I believe I have talents and abilities that will make me do well in the pageant's performance events like talent, beauty with a purpose and fitness challenge. I can perform the best Bollywood dance. I am also involved with lots of charity works in Pure Life Society which help disabled children. And I go to a gym for my daily routine exercise. Now that we are given six months free membership at True Fitness Centre, it will be really helpful and inspire me to workout harder in improving my fitness level and getting my body into amazing shape."
Amongst those present at the event were pageant presenter, sponsors, partners as well as celebrities, models and beauty queens of Miss Malaysia World 2015 winner Brynn Lovett, first runner-up Serene Chai, second runner-up Melinda Lee and third runner-up Dr Catherine Chow.
"We have an exclusive partnership with Ceres Fine Jewellery who will be producing a designer crown made with real diamonds and rubies worth USD1 million for the winner of Miss Malaysia World 2016," said Dato' Anna Lim.
Official presenter for the pageant this year is Galaxy TTT Group. In addition to Metrojaya as the official main sponsor for Miss Malaysia World 2013, 2014, 2015 and 2016, and Wacoal Malaysia as exclusive sponsor, the other sponsors and partners consist of Kimarie Hair Dressing Salon, SensenStyle Beauty, Whiskey Couture, Sense & Style Beauty Academy, Nithiran Couture, Dr Alice Spa, True Fitness Centre, Like Media, Jack's Stuff, Vision Studio, I Dance Studio, JS Photo Studio, Funfit, Natasha Handmade Shoes, LikesBeforeLove, The Coverage, Borneo Republic and Lim & Yeoh Solicitors.
Here are the top twenty Miss Malaysia World 2016 finalists:
1.  Janani Baskaran
2.  Tan Hui Ling
3.  Marissa Ong
4.  Jessica Lim
5.  Janice Tan
6.  Shwetu Citu
7.  Loo Liu Yan
8.  Dr Ranmeet Jassal
9.  Tatiana Kumar
10.Francisca Luhong James
11. Ushaanthini
12. Amreet Sra
13. Chloe Wong
14. Adelina Chan
15. Joyce Khoo
16. Malathy
17. Paveetha
18. Sally Lee
19. Mary Jane Atkinson
20. Miffy Deyn