Domino's Pizza Launches Bonus for All Campaign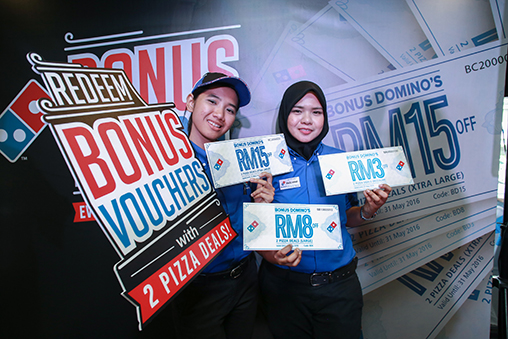 Domino's Pizza's all new Bonus for All campaign aims to provide even more added value and affordability as a form of appreciation for the continuous support by its loyal pizza lovers.
At the launch of the campaign yesterday, which also commemorated the opening of Domino's Pizza 150th store in Section 14, Petaling Jaya, Malaysia, Shamsul Amree, Senior General Manager, Operations, Domino's Pizza Malaysia and Singapore, said, "We are cognisant of the fact that during this challenging economic landscape, consumers are being more prudent with their spending. As an entity that is sensitive to consumer sentiment and in line with our commitment to provide ongoing value to our customers, we are pleased to introduce Bonus for All. We hope that through this campaign, consumers will be able to take their ringgit to the extra mile as they will be receiving a set of discount vouchers with their purchase, on top of promotional deals."
The Bonus for All campaign will treat customers to greater savings with discount vouchers to redeem offers which are already at a promotional rate, upon every purchase at Domino's stores nationwide until May 31, 2016. A set of vouchers worth RM3, RM8 and RM15 will be given out to customers with the purchase of any value, for all items available on the menu for purchases made at all stores, whether dine-in, delivery or take-away. Customers can use the vouchers to redeem two regular pizza deals, two large pizza deals and two Xtra large pizza deals respectively, upon their next purchase while for Fabulous Eat-in meals, the discount vouchers can be utilised to purchase the personal set, couple set or family set.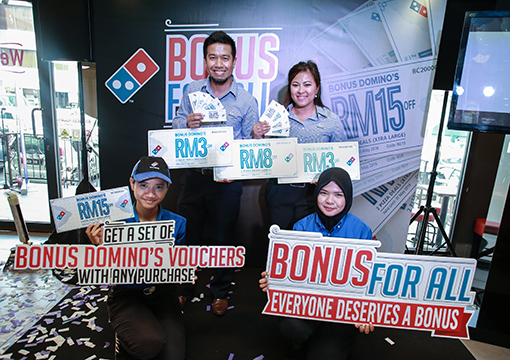 Domino's Pizza also initiated Unsung Heroes, a dedicated effort to reach out to individuals for their invaluable contributions and service to their family and society. Everyday heroes were presented with Bonus for All vouchers and pizzas as acknowledgement and well-deserved recognition for their countless sacrifices.
"We are inspired by these individuals and they are our Unsung Heroes. Through our simple gesture, we hope to show them that their efforts are cherished, and that they are making a real difference. At times, we may forget the significant contributions these individuals have in society, thus the Bonus for All is our way of saying thank you to them. We aim to reach out to more of everyday heroes that exist in our communities. This is an initiative that we look forward to carrying on throughout the year," added Shamsul Amree.