Flight Attendant Crowned Miss Earth KL 2016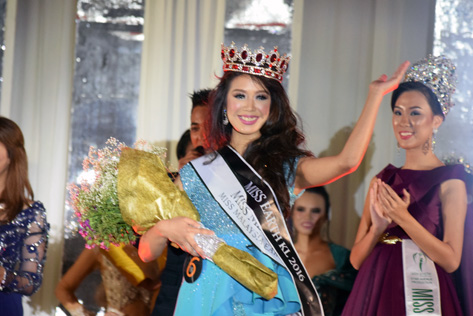 Renee Kei Quimson, an airline cabin crew, is crowned Miss Earth Kuala Lumpur 2016 at the Kuala Lumpur selection pageant finals held at the Grand Ballroom, DoubleTree by Hilton Hotel Kuala Lumpur on April 30.
Renee was crowned by Miss Malaysia Earth 2015 Danielle Wong Kar Wai.
The 25-year-old Kota Kinabalu-born and raised Renee who lives in Kuala Lumpur counted herself lucky as she won the crown on her first attempt with 14 other finalists competing against her. Renee also won the Miss Charming subsidiary title.
"I'm still amazed and shocked that I won. It feels like I'm in a dream," said Renee, of mixed Filipino/Scottish/Iban blood.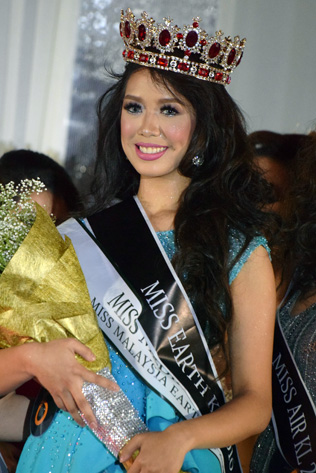 Renee said a male colleague approached her to enter the beauty pageant because he believed she had the potential to be a beauty queen.
"Since I will be turning 27 soon, (maximum age to join is 26) I might as well gain the experience before it's too late," she quipped.
Desire to live a balanced work-life, Renee shows complete confidence in her ability to juggle between being a cabin crew and her roles of being a beauty queen.
"I try to separate my job from my duties as Miss Earth KL to avoid conflict. So I need to plan my flight dates to know when I can be available as I do not wish to miss my flights or skip my beauty queen duties. And to make it balance I will have to divide my time between them."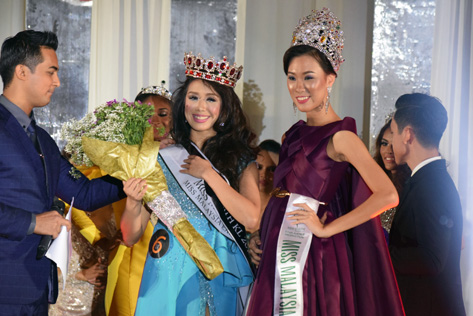 Renee is 5 feet 6 inches tall. She loves adventure and enjoys outdoor activities. Her hobbies include travelling and visiting hipster coffee places.
There were a total of 14 subsidiary titles warded.
The top six winners of Miss Earth KL state selection, including Renee, will compete with other states winners to be crowned Miss Malaysia Earth 2016 at the pageant's national grand finals to be held at Syeun Hotel, Ipoh on 7 August 2016. The grand winner will represent Malaysia in Miss Earth pageant to be held in October 2016.
Miss Earth is an annual international environmental-themed beauty pageant promoting environmental awareness. The current Miss Earth is Angelia Ong of the Philippines who was crowned on 5 December 2015 in Vienna, Austria.
Here is the list of Top 6 winners:-
Miss Earth Kuala Lumpur 2016 – Renee Kei Quimson, 25, KK
1st runner-up (Miss Air KL 2016) – Prasana Shri, 19, Sepang
2nd runner-up (Miss Water KL 2016) – Joanne Voon Mei Yee, 25, KL
3rd runner-up (Miss Fire KL 2016) –  Yvonne Ashley Lewis, 19, Bintulu
4th runner-up (Miss Eco Tourism KL 2016) – Priscilla Mujan Peter, 19, Kuching
5th runner-up (Miss Eco Beauty KL 2016) – Chanelle Jasmine Wong, 18, KL

Subsidiary Title Winners
Miss Perfect Skin – Lisa Felisia Ak Chiang, 21, Bau, Sarawak
Miss Silky Hair – Joanne Voon Mei Yee, 25, KL
Miss Best Smile – Chanelle Jasmine Wong, 18, KL
Miss Best Talent – Maria Madelina Ak Sujie, 20, Sri Aman
Miss Body Beautiful – Priscilla Mujan Peter, 19, Kuching
Miss Best Catwalk – Prasana Shri, 19, Sepang
Miss Photogenic – Sollus Ingrid Gangkangon, 21, Lahad Datu
Miss Idealyst – Yvonne Ashley Lewis, 19, Bintulu
Miss Dazzling Glow – Sollus Ingrid Gangkangon, 21, Lahad Datu
Miss Congeniality – Mohana Thamilarasu, 24, Klang
Miss Best Evening Gown – Prasana Shri, 19, Sepang
Miss Best National Costume – Yvonne Ashley Lewis, 19, Bintulu
Miss Charming – Renee Kei Quimson, 25, KK
Miss Social Media – Yvonne Ashley Lewis, 19, Bintulu