Msia and Jakarta Colaborate at Muslim Fashion Fest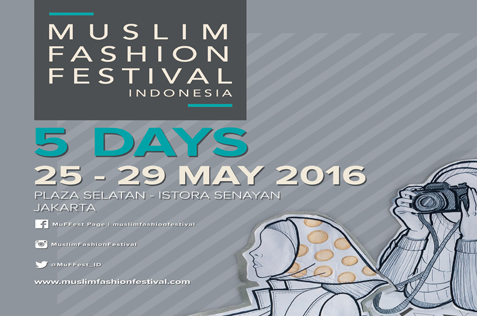 Six Malaysian fashion brands will showcase their collections of modest fashion at the Muslim Fashion Festival (MUFFEST), taking place in Jakarta, Indonesia from 25th – 29th May 2016.
The 5-day event is made possible by the organisers of the Malaysia Fashion Week (MFW), the Malaysia External Trade Development Corporation (Matrade) and STYLO International to promote Malaysian Muslimah fashion designers on the global fashion map.
The six brands are Ainibakker by Nor Aini Bakker, Yan's Creations by Yani Bakhtiar, Iluvwirdah by Virdah Adnan, Azura Couture by Azura Mazaruddin, Durrah Jewellery by Durrah Khalil and Sara J by Sara Jamaludin.
These brands will get to highlight their designs to thousands of local and international visitors including trade buyers, representatives of fashion houses, international media, as well as members of the public. The
designers will be incorporating the unique Malaysian elements that are inspired by the people and culture of Malaysia in their collections.
"MFW is pleased to collaborate with the organisers of MUFFEST – the Indonesian Fashion Chamber (IFC) and Ditali Cipta Kreatif, in showcasing MODESTyle – inspiring modest fashion from Malaysia.
"This fashion exchange between Indonesia and Malaysia, the two biggest Muslimah fashion markets in Asia is significant as we are able to learn from one another about the latest trends and wants of the market," said Datuk Nancy Yeoh, president and CEO of STYLO International and co-chairman of MFW 2016.
Matrade CEO Dato' Dzulkifli Mahmud said the Malaysian fashion industry has a lot to offer in the world.
"Our modest wear is modern and trendy without compromising the religious obligations of Muslimah. These reflect Malaysian
Muslimah community that is progressive in nature and are in tune with fashion styles out there.
"Together with STYLO International, we hope our partnership with MUFFEST will be able to push the talented Malaysian designers and further grow the local fashion industry overseas. This partnership will surely be a catalyst to a stronger intra-ASEAN fashion trade especially with Indonesia, that is home to over 200 million Muslims," said Dzulkifli.