Miss Universe Malaysia 2017 Search Begins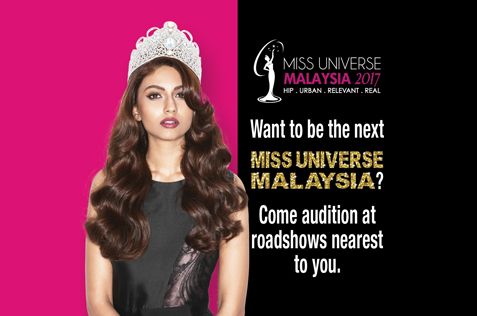 The walk-in auditions for Miss
Universe Malaysia 2017 are on with roadshows to be held across five states every weekend this June.
The first audition was held at G Hotel Kelawai, Penang on 4 June 2016.
Miss Universe Malaysia Organization (MUMO) national director Elaine Daly said the audition is open to all non-Muslim Malaysian females aged between 18 to 25 years with a minimum height of 168cm.
"We are looking for young ladies who are comfortable taking the stage and ooze confidence. It doesn't matter if she doesn't speak perfect English. What's important is that the candidate must be comfortable and confident.
"Shortlisted  finalists will undergo
grooming and training and will appear in a series of webisodes capturing the whole process of selecting a deserving winner in the newly-launched online lifestyle channel, hurr.tv," said Elaine.
Judges for the auditions will include Daly, actress cum former beauty queen Debbie Goh and actor-producer-director Hans Isaac.
The winner for this year's Miss Universe Malaysia 2017 pageant will walk away with cash and sponsored prizes worth up to RM200,000 and an opportunity to represent Malaysia at the Miss Universe pageant alongside contestants from all over the world.
The auditions will take place from 9am – 5pm at the following locations:
4 June 2016   – G Hotel Kelawai, Penang
11 June 2016 – Horizon Hotel, Kota Kinabalu
12 June 2016 –The Old Courthouse, Kuching
18 June 2016 – Leisure Farm, Johor Bahru
25 June 2016 –The Majestic Hotel, Kuala Lumpur
Qualified young women who are up for the challenge are invited to attend the walk-in auditions for a chance to represent Malaysia in one of the most prestigious titles in the pageant world. They may register online at:  http://www.missuniversemalaysia.com.my/registration/.