2016 PIKOM PLC Annual Leadership Award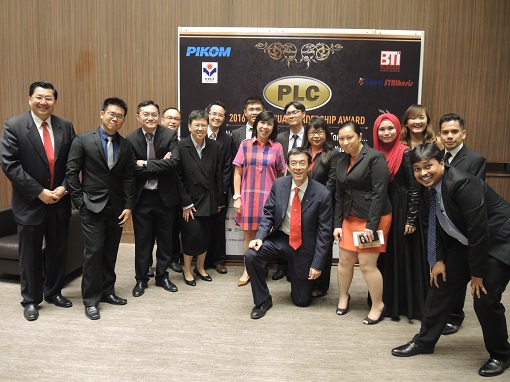 PIKOM, in collaboration with Business Technovise Innovation (BTI), hosted the inaugural PLC Annual Leadership Award on 27 May 2016 at Sime Darby Convention Centre, Bukit Kiara.  With Nurturing the PMs & Leaders of Tomorrow as the theme, this year's gathering was graced by Wan Yon Shahima Wan Othman, the Chief Operating Officer of PSMB, and more than 100 industry Chairmen, CEOs,
GMs.
Into its 7th year, the national PLC leadership programme has successfully attracted more than 500 leaders from local and international countries in Asia and Africa. As part of the National ICT Certification and Standardization Grid, PLC empowers current and future Leaders with skills needed to build high performance teams that can drive projects to successful completion and obtain the desired business outcome.
This year's edition brings together participants across all the industries with a common vision to develop and celebrate Leadership Excellence. Wan Yon Shahima presented Top Corporate Honours to leading organisations committed to develop leadership competency.  The 2016 winners were Maybank, MISC, Mesiniaga, Sunway and AmBank.
In his Welcome Speech, CS Chin, the PIKOM Chairman, highlighted the PLC programme would be celebrating its 25th Silver Edition on 18-22 July 2016, continuing its effective experiential learning through real-life knowledge-exchanging and enjoyable practical wisdom-sharing.
Charles Tan, the PIKOM CIO Chairman and the PIKOM 2014 CIO of the Year, in his Keynote Speech, shared that the PIKOM PLC has value-added to Project Management practitioners in the areas Strategic & Business Management, and most notably Leadership which are critical in nurturing young talents.
This well-planned and attended event will have its 2nd edition on 26 May 2017.