Final Call For 2016 MGIM Pageant Sign-up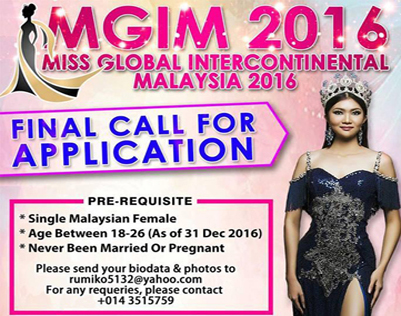 The June 30 deadline is approaching for 2016 Miss Global Intercontinental Malaysia (MGIM) 2016 pageant applications.
MGIM is sending out a final call to beautiful young ladies for registrations before the pageant gets underway.
All girls aged 18-26, non-Muslims and with minimum height of 164 cm are invited to submit their biodata and photos to [email protected] to be considered for wild card fast track selection for the national grand finals on 6th August 2016.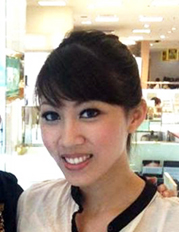 "We are very excited for all the amazing young women who have registered so far for this year's event. This is our last call for all the ladies out there who have a passion to shine like the stars and the confidence to represent Malaysia," said MGIM pageant organiser, founder and national director Marlene Lim Hui Nee, a former model and beauty queen herself.
After the screening process, successful candidates will proceed on a two-week long camp session from 27 July – 6 August where they will undergo extensive training and grooming to prepare them for the grand finale.
Marlene said all the finalists will be revealed during the press conference to be
held on 27th July.
"One of our favourite activities during the pageant week is cheering up beautiful sweet elderly people. This year the contestants will be showing their caring and compassionate side by visiting Pusat Jagaan Rumah Orang Tua Chik Sin Thong Klang & Pantai, in Klang," said Marlene.
The Grand Final Night on 6th August will be held along with a charity dinner at e.City Hotel @ One City, USJ on 6th Aug 2016. The reigning champion of MGIM 2015 Immaculate Lojuki will crown this year's 2016 winner at the pageant's grand finale. Among the special guests gracing the finale night will be Miss International 2013 Bea Rose Santiago.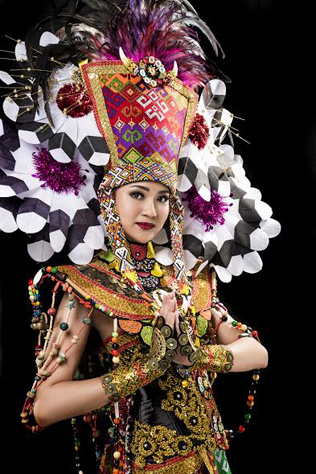 The Top 3 winners of MGIM 2016 will represent Malaysia to the Miss International 2016 Pageant in Tokyo on Oct 27, Miss Supranational 2016 Pageant in Poland on Dec 2 and Miss Tourism Queen International 2016 Pageant in China on Sep 28.
For ticket purchase for the Charity Dinner Crowning Night, contact Justina Khoon at 012-913 9913 or for details, follow the organisation on Facebook at https://www.facebook.com/mgimofficial
Miss Global Intercontinental Malaysia (formerly known as Miss Global International Malaysia) 2016 is in its sixth year running. It is one of the largest and most prestigious pageants in Malaysia. It was founded and organised by MerveilleuxM Production, a production company from Miri, Sarawak, started by three Sarawakian youth, Marlene, Lewis and Xiao Jie.