Miss & Mrs. Malaysia Petite World 2016 Pageant Calls For Entries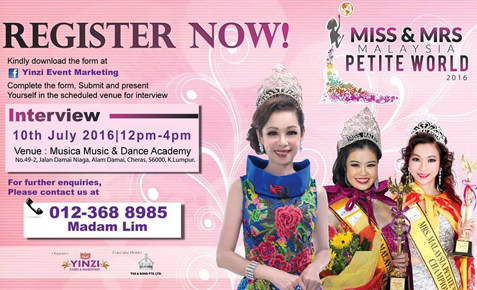 ---
The registeration is now open for the 2016 Miss and Mrs. Malaysia Petite World 2016 pageant for petite ladies, married or single, with
maximum height 162 cm (5 feet 3 inches) and below.
The interview session will be held from 12 pm to 4 pm on 10th July at Musica Music & Dance Academy in Cheras, Kuala Lumpur.
To be eligible for Miss category, ladies must between the ages of 18 and 30, and for Mrs. category, aged between 25 and 55.
"We are interested in meeting petite and beautiful ladies who want to become winners in their own right and demonstrate their maturity, inner beauty and talent," said Yinzi Event & Marketing CEO Madam Lim Siew Cheng, the pageant organiser and event director.
Those interested in being a contestant are requested to download the form at Yinzi Event & Marketing's facebook at www.facebook.com/YinziEvent, complete and submit the form and present themselves at the scheduled venue for interview. The registration fee is RM300.
Successful candidates will be provided coaching and training, and these include catwalk and image training, to help them on their journey.
The semi final will be held on 24th July at Atria Shopping Gallery, Petaling Jaya.
A press conference will be called on 18th August to officially announce the finalists and the grand
finale, to be held on 8th October at Wisma Huazhong, Seri Kembangan.
The champion for each category will receive RM3,000 in cash along with RM30,000 worth of sponsored prizes, 1st runner-up cash RM2,000 and sponsored prizes worth RM20,000, 2nd runner-up cash RM1,000 and sponsored prizes worth RM15,000 and 3rd and 4th runner-ups cash RM500
and sponsored prizes worth RM10,000 each.
The winners will represent Malaysia in their respective international pageant finals in USA.