Needy Residents Go Jom Shopping For Hari Raya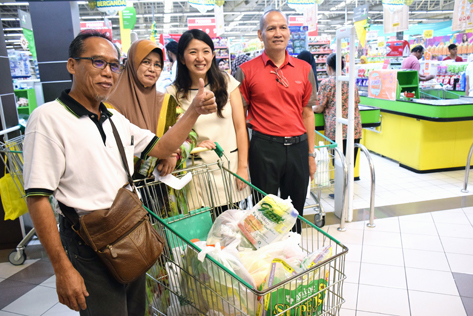 The poor and needy residents from Damansara Bistari flats, Kampung Damansara Baru and SS4B qualified through Selangor government's "Jom Shopping" (Let's Go Shopping) program were given shopping vouchers worth RM100 in conjunction with the upcoming Hari Raya Aidifitri.
The event was organised by the service centre of Damansara Utama state assemblywoman Yeo Bee Yin at Giant hypermarket in Kelana Jaya on 26 June 2016.
Yeo said the participants identified in her constituency consisted of the elderly, single mothers, the poor and needy, the less fortunate and including families of police personnel and firemen from Balai Polis Damansara, Balai Polis Sea Park and Balai Bomba & Penyelamat Damansara.
"We hope that this small token will help ease the burden of the needy and low-income families who are celebrating for the upcoming Hari Raya Aidilfitri," she said.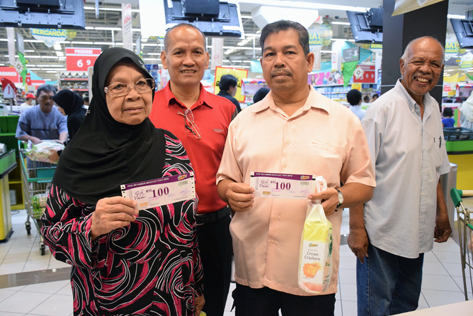 Participants who collected their shopping vouchers also received contributions from Giant hypermarket in the form of gift bags, each containing a packet of cracker and a bottle of mineral water.
Petaling Jaya City Council (MBPJ) councillor Jamaliah Binti Jamaludin and Persatuan Penduduk Blok A dan B Damansara Bistari chairman Abdul Samad Abdul Rashid were also present.
Among those who received the vouchers was Damansara Bistari flats
resident Yusof Bin
Ismail, 56, a factory worker, who used the RM100 voucher to purchase rice, cooking oil and other groceries.
"I am thankful for the aid we have been given. This helps ease my financial burdens not just for our Raya preparations but also for Ramadan," said Yusof who accompanied his wife for the shopping trip.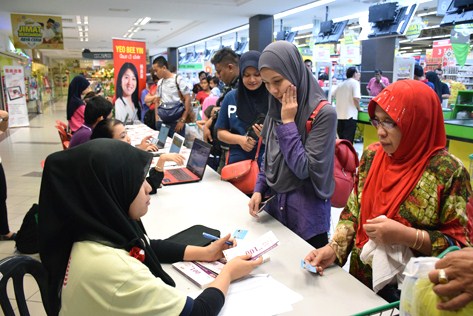 The Jom Shopping program under the Merakyatkan Ekonomi Selangor (MES) welfare program implemented by the Selangor State Government started in 2011
for senior citizens aged 60 and above but has since been extended to single mothers, the poor and needy during major festive seasons such as Hari Raya, Chinese New Year and Deepavali.