Heavenly Angels Steal Show At Miss Noble Queen Semi Final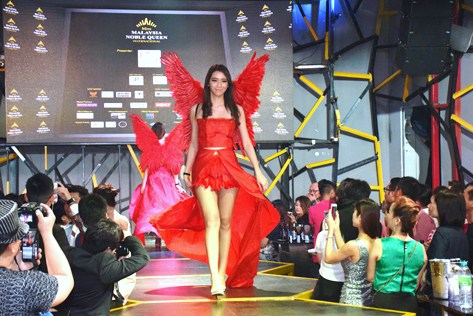 Sixteen heavenly angels descended to Esperance Club & Bistro, Kuala Lumpur wowing a packed crowd with runway shows, talent performances and a photo shoot session on 1 July 2016.
The Victoria's Secret fashion show-inspired semi final of the Miss Malaysia Noble Queen International 2016 featured the top 16 semi finalists appeared in their outfits fitted with feather wings as angels and strutted down the runway to loud cheers of the audience.
Next the contestants put on a stylish fashion show in singlet tops with skin-tight jeans showing off Bertoni sport sunglasses and US Polo Assn. caps.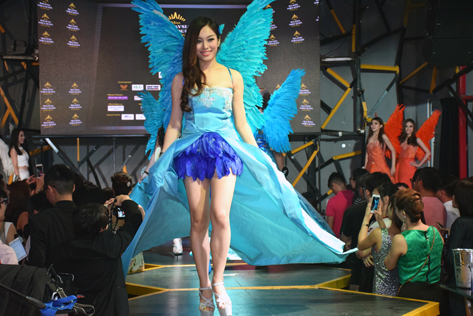 In the talent round, the contestants proved that it was not "all about looks" with a variety of talent performances to showoff their special skills. The Best Talent award went to 27-year-old law lecturer Ghayathri with her lively classical Indian dance.
Lastly, the contestants strutted their stuff on the runway in fashionable white dresses before a panel of judges who comprised beauty queens Ms Asia Noble Ambassador 2015 Boey Wong, Ms Asia Noble Goodwill Ambassador 2016 Joey Hoo and Ms Asia Noble Goodwill Ambassador 2015 Lisa Jiang, Malaysia top male supermodel Wilson Tan, well-known international brand builder CT Chin and BS Group chief event director Cherry Lee.
During the photo shoot session, the stunning beauties smiled and posed in front of Lamborghini and Ferrari sport cars for the shutterbugs with endless camera bulbs flashing throughout the event.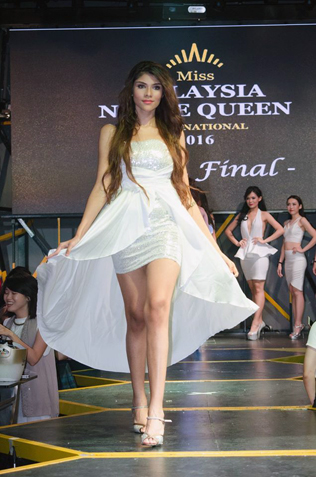 Noble Empress Productions president Jan Sit, the pageant organiser and event director said she was very happy the contestants had a lot of fun and gave their very best on the show that impressed the judges.
"I am very happy to announce that all the 16 semi finalists won a place in the grand final and will now compete again on July 15 for the crown of Miss Malaysia Noble Queen International 2016," she said.
Jan Sit is the reigning Mrs Asia Noble Queen International 2015 and winners at the 2012 Mrs South East Asia, 2011 Mrs. Malaysia and Miss Chinatown Wilayah state pageants.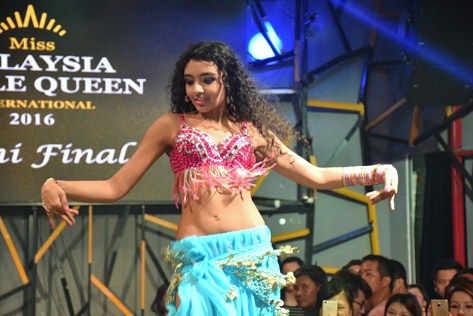 The title winner of Miss Malaysia Noble Queen International 2016 will receive a grand prize of cash RM10,000 while the first runner-up will get RM3,000; the second runner RM2,000 and the third runner-up RM1,000. There will be five subsidiary titles to be awarded with each winner gets RM500.
The Top five winners will represent Malaysia to complete at the international grand finale to be held in Kuala Lumpur at Royale Chulan Hotel on September 11.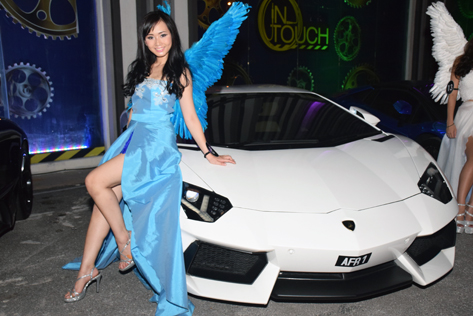 Jan Sit thanked all the sponsors, partners and friends for the support given to the pageant.
Presenter for the event is BS Group whose founder is Dato' Bryan Sze. Main sponsor is Sens Capital and co-sponsor Miracle Merchant. Gold sponsors are H2G, Joyous Group, Acura Concept-Bertoni and Premier United Retail-US Polo Assn. Among other sponsors are Esperance Club & Bistro (official venue) and Foon Chee Facepics Studio (official photographer), CT Chin (branding), Makeover Paris Malaysia (official makeup) and WoonMei (official online media broadcast).
List of Top 16 Miss Malaysia Noble Queen International 2016 Finalists :
1    Apple Teng, 27, private tutor, Johor
2.   Janice Teoh, 24, student, Perak
3.   Ghayathri, 27, law lecturer, Selangor
4.   Nina Kho, 24, actress, Sarawak
5.   Tan Jing Han, 22, student, Kedah
6.   Jillayne Ting, 28, pharmacist, Penang
7.   Chelsea Cheng, 27, makeup artist, Sarawak
8.   Jocelyn Leong, 27, entrepreneur, Penang
9.   CJ Lee, 26, business development officer, KL
10. Allyson Goh, 27, life planner, KL
11. Chanel Chin, 22, student, Selangor
12. Joanna Joseph, 19, student, Selangor
13. Chloe Tan, 25, engineer, Perak
14. Wong J-Yee, 24, insurance agent, Selangor
15. Kristin Kan, 27, marketing executive, Selangor
16. Michelle Ng, 19, beautician, Perak