Domino's Unveils First Sweet and Savoury Combo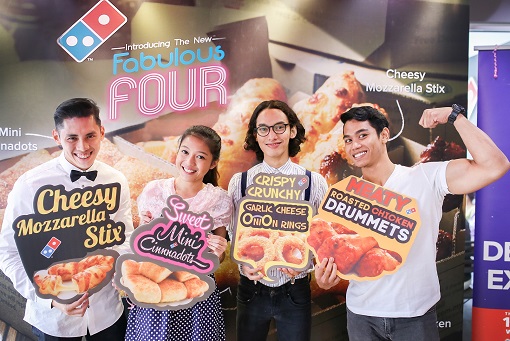 Domino's Pizza latest offering, the new Fabulous Four features a unique assembly of top picks that truly reflect the four popular choices made by its customers. The latest pairing offers both sweet and savoury treats in one box and this marks the first savoury-sweet combination by Domino's.
Fabulous Four delivers savoury and sweet flavourful experience by creating a great starter to an awesome pizza meal with a sweet finishing side that will leave a memorable experience.
The box set groups the top selection of chicken, the Roasted Chicken Drummets; the best-selling bread item, Domino's Cheesy Mozzarella Stix; the all-time favourite, Garlic Cheese Onion Rings; and the rising dessert star, Domino's Mini Cinnadots. Featuring a speciality in each of the four categories, the Fabulous Four creates a convenience for customers when selecting their side dishes.
Shamsul Amree, Senior General Manager, Operations, Domino's Pizza Malaysia and Singapore, said, "We are delighted to introduce our latest product, the Fabulous Four. This combination reflects the value that we are able to create and offer to our customers. As an aggressive growing brand and with presence in Malaysia close to 19 years, our basic recipe and priority remains the same to cater to the needs of our prized customers. Our customers have always and will always be our key priority and inspiration."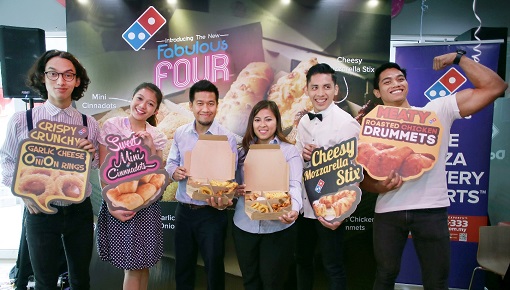 Apart from complementing your pizza meal, the Fabulous Four also makes the perfect in between meal snacks on its own. This scrumptious combination is ideal for sharing as there is something for everyone. For a limited time only, the Fabulous Four will be available at an introductory price of RM19.90 from August 15 onwards.
On track with its long-term growth plans, Domino's will mark another milestone with the opening of its 20th store for the year. Located at Taman Putra Sulaiman, Ampang, the latest store will bring the total number of Domino's stores to 165th in Malaysia.
With a purchase of Fabulous Four, customers can enjoy regular, large and Xtra large pizzas at half price. This purchase with purchase offer with 50% off is valid for a limited time offer, through online ordering from 15 till 21 August. Domino's is also giving 50% off all side items through online ordering, valid till 21 August.