Runners Come Together To Save Tigers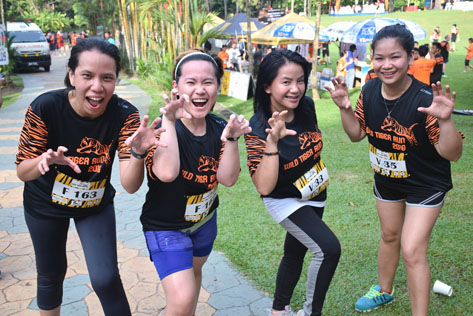 Some 350 runners joined the Wild Tiger Run 2016 for a fun morning in Perdana Botanical Gardens, Kuala Lumpur on 14th August to raise funds and create awareness on the importance of tiger conservation.
The runners took off about 8.30 am after a little warm-up exercises involving light aerobic movements and some dynamic stretching.
Participant Jes Rajendra who took part in the run said she was happy to do her part in the effort to saving an endangered species as there
wasn't much tigers left in the country due to poaching and human encroachment into their habitat.
Another participant Joanne Chew who applauded conservation efforts of MYCAT to save the tiger population said, "I wish I could run with the tigers."
The 10km run was organized by the Malaysian Conservation Alliance for Tigers (MYCAT) in collaboration with the Rotary Club of Kuala Lumpur DiRaja. All proceeds from the run will go to MYCAT to carry out its work to save the Malayan tiger which is classified as endangered by IUCN (International Union for Conservation of Nature).
According to reports, there were only about 300 Malayan tigers believed to remain in the wild in Malaysia. If nothing is done, the country's last remaining tigers could become extinct if poaching continues.
MYCAT president Dr Kae Kawanishi in her speech made a special acknowledgement for wildlife rangers protecting wildlife on the frontline in Taman Negara.
"Some of you might already heard and read of a wildlife ranger who was injured in the line of duty by poacher in Taman Negara last week. We have just make an executive decision this morning that part of the proceeds from this event will go to the injured ranger. They are the real champions in my heart and in your hearts as well," she said to loud applause.
The donation box went around and about RM1,000 was collected from the runners and all those present.
"I will be personally responsible for handing over the money to the injured ranger. I am sure it means a lot to him as well as other rangers in the frontline protecting wild animals. They received very little acknowledgement and monetary rewards so with little contributions coming from members of the public I think it means a lot to them," said Kae.
Pahang Wildlife and National Parks Department (Perhilitan) ranger Mohd Khairol Azuan Bin A. Aziz was seriously injured after he
was attacked by an illegal immigrant during an operation under the 1Malaysia Biodiversity Enforcement Network (1MBEON) program at Taman Negara, Ulu Tembeling to control poaching of wildlife as well as to preserve biodiversity.
After the run, participants and visitors alike enjoyed a program of music by singer and environmentalists Markiza and Peter Brown as well as information booths of MYCAT, WWF-Malaysia, TRAFFIC, Rotary Club and others. Children played and enjoyed the fun at the inflatable bouncy castle. There was a prize giving ceremony and lucky draw.
The guests of honour were Tunku Zain Al-'Abidin Muhriz, Tengku Aishah Sultan Ahmad Shah and Natural Resources and Environment Ministry deputy secretary-general Dato' Dr. Azimuddin bin Bahari.