Cosplayers at AniManGaki 2016 Bring Fantasy To Life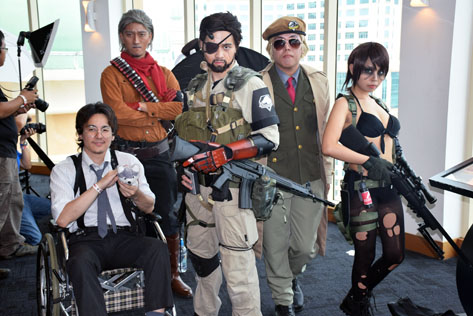 Hundreds of cosplayers gathered in Sunway Pyramid Convention Centre, Bandar Sunway, Petaling Jaya during the two-day AniManGaki 2016 from 27 to 28 August which brought more than 10,000 attendees.
Trish from anime series Devil May Cry, Harley Quinn from Batman, Super Robot from animated series Super Robot Monkey Team Hyperforce Go! and Sauron from Lord of the Rings movies were among those in attendance.
Photographers had a field day taking photos of cosplayers wearing their costumes and
favourite anime gear around the convention centre and posing with them.
A cosplayer from Seremban who gave her name as Kazui Kori said she dressed as Trish, the Devil Hunter of Devil May Cry anime series, one of her favourite anime and enjoyed being the character which suited her and allowed her to connect with other cosplayers. Many stopped her to take a photo.
Like the hundreds of cosplayers walking around the convention centre were two tudong-clad girls Aisyah Chaizul, 21, who came dressed as Shiro from anime series K, and Syawalina, 19, who cosplayed the character Tama from manga series Gugure! Kokkuri-san.
The two girls said they were excited at being able to display their adoration and fantasize as their favourite character in the anime/manga series.
"We cosplay together and have so much fun fulfilling our fantasy."
Among other highlights of the convention were Doujin booths that featured over 120 local artists, game showcase, stage performances, anime screening and cosplay competitions.
AniManGaki is an abbreviation from 'Anime", "Manga" and "Gaki" (a Japanese slang for 'brat'). It was established in 2009 by Yvonne Sing Wee Wen, founder of Sunway University Anime Club with the purpose of bringing anime, manga and game enthusiasts together and celebrate the diverse pop-cultures of Japan. By 2012, AniManGaki separated itself from the the university club event to form its own event organising entity solely managed by the AniManGaki organising committee and members, and shifted to larger venue at Sunway Pyramid Convention Centre ever since to meet growing attendance and event content every year.