MCW Pageant Finalists Raise Fund For Charity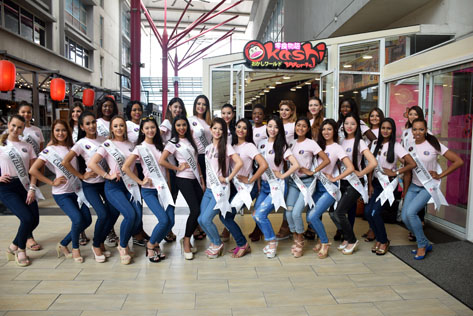 ---
28 Miss Cosmopolitan World (MCW) 2016 pageant finalists from around the world, including Malaysia, made a splash with a fund-raising event at Okashi World in Sunway Giza Mall, Petaling Jaya on 16th Sept for the charity event.
Reigning Miss Cosmopolitan World 2015 Rachel Harradence also joined the sponsor visit to the Japanese specialty retail chain store to raise funds for a children's home. The visit was part of numerous fund-raising activities planned during the pageant weeks in the run up to the final in Kuala Lumpur on Sept 30.
"We are delighted to support the 2016 Miss Cosmopolitan World Pageant and doing our part to help a good cause. We are donating 50% of the proceeds of sales in the store for the day to a needy charitable organization," said Mani Gan, CEO of New Supa Maketto Sdn Bhd which operates the retail chain store under the name of Okashi World.
Gan said 99% of all snacks in the outlets are imported from Japan, with the remaining 1% of hot item Korean snacks.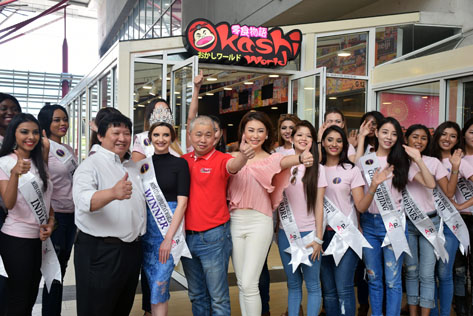 New Supa Maketto (formerly Smiley Foods Sdn Bhd) was founded in 2014 and currently operates a chain of 16 Okashi World outlets located in Kuala Lumpur, Selangor, Johor, Penang and Malacca. The word Okashi means "Snack" in Japanese.
The special charity event with games and fun-filled activities attracted many happy shoppers who made purchases with the good feeling of charitable giving.
MCW founder and productions director Amelia Liew said it was a great event with the girls excited about supporting charity.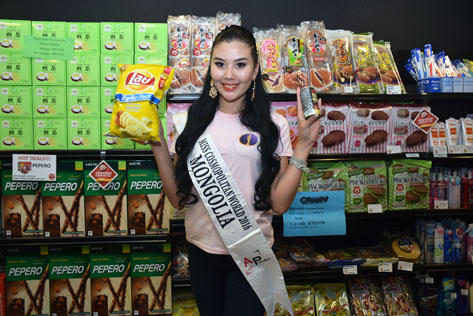 18-year-old Miss Cosmopolitan World Mongolia 2016 Anujin Sugirjav who made some purchases of healthy snacks at the store said it was a very meaningful event experience.
"I am all for giving to charity because I want to help make a difference for those in need," she said.
Anujin who recently graduated from university and learned English by herself began her accounting career working in her brother's firm.
"I am very excited because this is my first visit to Malaysia and also my first time competing in an international beauty pageant. Kuala Lumpur is a very nice city. It's very hot here but I love the sun. In Mongolia we have four seasons. During the summer, it is very hot but now it has been very cold with temperatures being negative 25.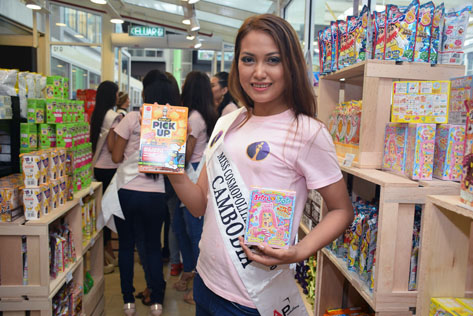 Another finalists Miss Cosmopolitan World Cambodia 2016 – Heng Soth Nisay, 20, is a third year university student studying international relations at Beltei International University and first runner-up of Miss University in her country.
"This is my first time in Malaysia and I am very excited. Everything here is very beautiful. The environs are great and the infrastructures here are a lot more modern than my country. But I think the way people live here is quite similar to where my country is, but Malaysia has a higher GDP," said Heng.
"I will do my best and hope to really show something in the final to make my country proud."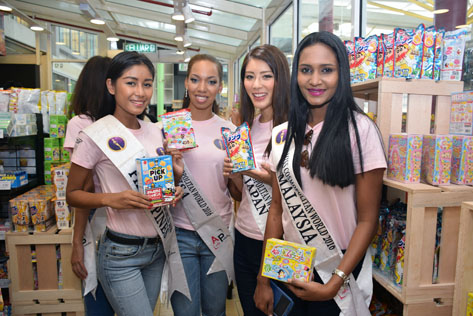 Malaysia's delegate to the Miss Cosmopolitan World 2016 pageant is 27-year-old Devi Rani, a customer care manager in a money transfer services company.
"I find the pageant very interesting and exciting as I get to meet and learn from the international delegates who belong to different cultures and languages. When they arrived here, I could see they were very excited to know more about Malaysia. I do my best to promote our beautiful Malaysia to the foreign delegates and I hope they take home the very best of memories from Malaysia," said Devi who is confident of making it to the top five in the finals.
The grand finals of Miss Cosmopolitan World 2016 will be held at Hotel Istana, Kuala Lumpur on 30th Sept 2016.