Photo Shoot Helps Raise Money For Animal Sanctuary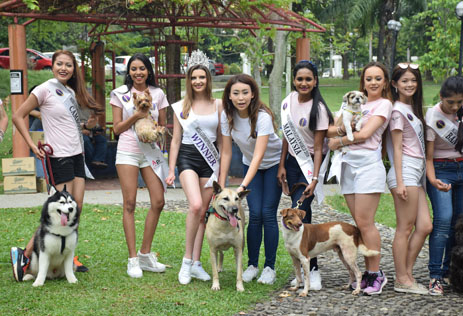 The 28 Miss Cosmopolitan World 2016 finalists and Miss Cosmopolitan World 2015 Rachel Harradence had a great time with dogs of various breeds in a charity photo shoot held at Central Park, Bandar Utama on 18th Sept which raised RM4,400 for Furry Friends Farm.
The event, held for the third time, was the brainchild of two photography enthusiasts Allan Loi and Choi Mee who collaborated with Miss Cosmopolitan World organization and attracted 25 animal loving photographers who each paid RM130 as registration fee for the opportunity to take many different and interesting photos of the beauties with the dogs all for a good cause. The photo shoot went off without a hitch and eventually raised RM4,400 including from donors.
The fund-raising effort helps to feed, house and care for rescued stray and abused animals in Furry Friends Farm (FFF), a 2-acre animal sanctuary in Kundang which is home to about 500 animals that included mostly dogs and cats and others like a goat, chickens and rabbits.
FFF president Myza Nordin thanked everyone who had been supporting the event year after year. She said she very relieved that the land owner had extended for another five years lease on the land on which the sanctuary occupies. The land owner had last year put up for sale the piece of land for RM2.7 million.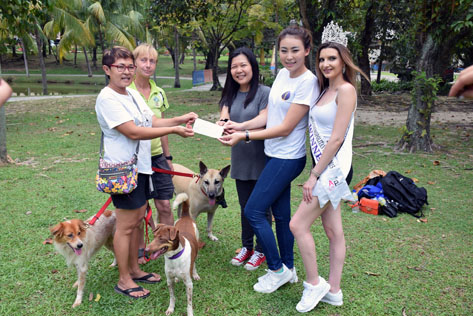 MCW founder and productions director Amelia Liew said, "I am happy the photo shoot went well and the girls enjoyed a fun time posing with their furry friends."
Choi Mee who has a 13-year old brown American Cocker Spaniel said she teamed up with Allan in 2011 in organizing charity event for animal shelter homes.
"I really enjoyed organising it. The satisfaction and rewarding part is when our effort paid off with the money raised for a worthy cause."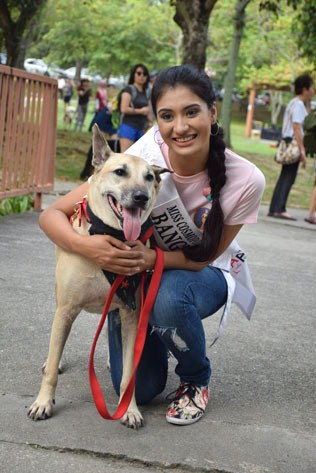 Miss Cosmopolitan World Bangladesh 2016 Zohra Etisha, a dog lover herself, said she enjoyed the photo shoot with the dogs and was very excited seeing a Doberman and a Pug for the first time.
"I have never seen in my life a Doberman and a pug and I am so happy to see them in real life.
"I love dogs very much. When I was two years old then, my dad's friend gave us two puppies, one a 6-month-old German Sheppard which we named Tiger and another, a four month old puppy named Queen. I will never forget the years of love, devotion and joy these two dogs brought me, said the Bangladeshi actress and model.