Malaysian Pilot Says "Sky Is Never The Limit"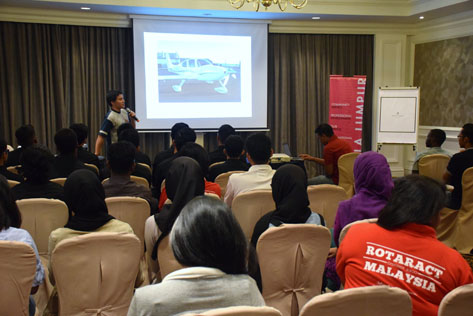 An excellent inspiring talk by the youngest pilot (at age 21) to fly solo around the world, Captain James Anthony Tan  had everyone's full attention till the very end and proved to be a wonderful experience for the attendees.
Hosted by Rotaract Club of Kuala Lumpur the talk entitled "The Sky Is Never The Limit" was held at Ritz Carlton Hotel, Kuala Lumpur on Oct 8, 2016.
James who was born with dyslexia and hails from Sungai Long, Kajang had set a Guinness Book of World Records title in 2013 as the youngest pilot (then age 21) to fly solo around the world. He flew a tiny 30-year-old single-engine Cessna 210 Eagle aircraft visiting 21 countries, completing 22,000 miles (40,000 Km) in 50 days during the '1Malaysia Round The World Expedition (1RTW)'.
Now 25, James shared his thoughts and experiences about his journey into aviation and the many challenges that he faced along the way to become a pilot and to lead a successful life.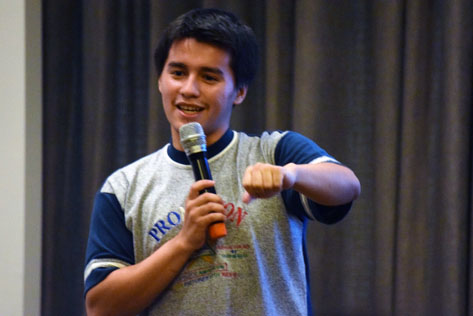 "The greatest obstacle to life is not the people around you but yourself. Don't blame people. Never forget it's always 51% your fault. There is always something that you could have done, so keep moving forward, make the effort, make the extra push and you will succeed," said James.
James's piece of advice for young people:
"Be humble and have humility. Do not overvalue yourself. Many kids nowadays overvalue themselves. You must be willing to learn from everyone. From a beggar to a CEO, everyone has a lesson to teach, so be open, be kind and have humility. Take care you do not overvalue yourself and people will talk to you. When people talk to you, you learn and when you learn you progress.
"Be always ready to help people out. When you give people the help they need, people will help you back. Maybe not all the time, but out of 100 times, one person will help and when that one person helps, it matters."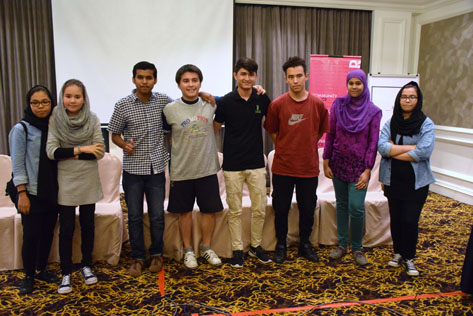 James said he has flown to over 70 different countries and Malaysia is the best.
"I love my Malaysia! The one thing very unique about Malaysia is we have rivers and the oceans. You can see the lineage, the separation of fresh water and salt water and it's very pretty from the air.
"If I would say just for natural beauty, Iceland is very nice. It is cold but not too bad. Iceland in spring is nice and is definitely worth checking out.
"In terms of flying I would say America wins hands down. It's so easy. If you want to fly, you wake up, you brush your teeth, you wear your pyjamas, you go into a cockpit and you fly, just like taking a bus. In other countries, there are so much hassles."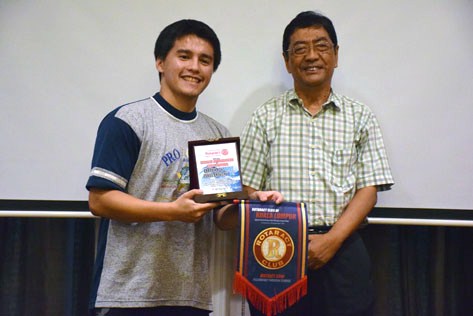 St John Institution Interact Club member Mikhall Mazlan said the talk has relevance and taught him a lot of things he needs to become mentally strong.
"The speaker said things I didn't know previously, like 'Do not give up and move on. Don't let anybody brings you down.' I am not that good at doing it so at least he gave me some advice. It certainly gives me the energy and motivation to work harder, do more in life and not waste time. I admire his personality as well. He did something amazing for the country," said Mikhall.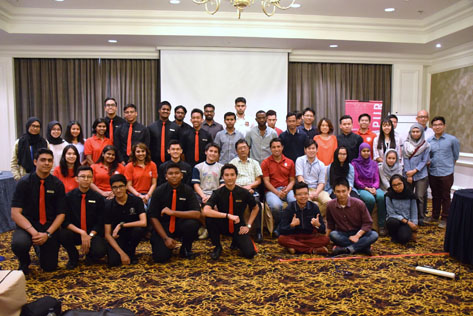 Another attendee Aitsam Ullah said after hearing Tan's talk he felt he had no reason not to be successful in life.
"I've learned many things from this talk. When you want to fulfill your dream or like to do something, never give up. Life is a challenge. You have to challenge it. When you really like to do something, just go and focus on it. You can do it. Never say 'I cannot do it.' You can achieve whatever you want to achieve."
The session ended with James's parting words of wisdom, "I hope my talk inspired you. I hope my talk gave you something. Be kind to others, push forward and believe in yourself."