Joanne Dayang Baru and Winni Lai Win Petite Finals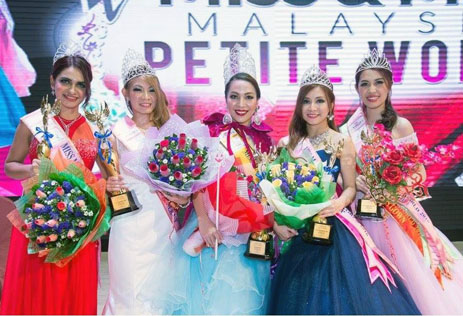 Joanne Dayang Baru, a 22-year-old student from Kota Kinabalu, and Winni Lai, a petite 29-year-old businesswoman from Johor have proven that petite women can also be crowned beauty queens.
The 159cm (5' 2") tall Joanne Dayang from the Lun Bawang tribe was crowned Miss Malaysia Petite World 2016 while Winni Lai at 155cm (5' 1") tall bagged the Mrs Malaysia Petite World 2016 title.
The winning pair will represent Malaysia to compete in their respective categories in the Miss and Mrs Petite World finals in the United States.
Miss & Mrs Malaysia Petite World 2016 was held at the Wisma Huazong in Seri Kembangan on Oct 8, and the pageant showcases the beauty, intelligence and talent of its contestants. It is divided into two categories: Miss category (age 18-30) and Mrs category (age 25-55) with maximum height 163 cm (5'3").
"This is my first win in a beauty pageant. I feel very blessed and overjoyed as I did not expect it but I truly believe that I have all the criteria the judges were looking for," said Joanne to Citizen Journalists Malaysia (CJMY).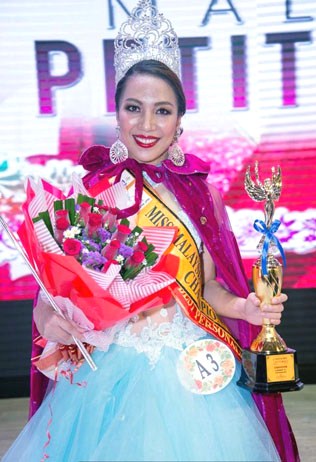 In the pageant's talent round competition, the energetic girl truly captivated her audience with a contemporary dance called 'Rise Up', which she did not win but instead won herself the Best Personality subsidiary title.
"Being petite is never an outcast. You just have to start believing yourself to achieve the best. Keep telling yourself that you are always beautiful no matter what size you are.
In May this year, Joanne had competed in the Unduk Ngadau beauty pageant and only made it to the Top 10 placing. In 2014, she took part in the Dance World Cup competition and won two Gold medals.
"I have definitely gained a lot more confidence in myself. My strategy in preparing for the Miss Petite World finals is to prepare myself for everything which means getting myself physically, mentally and emotionally ready. I will be doing all these improvements from now on," said Joanne who shows great potential of winning the world title.
Joanne encourages young petite ladies to join the pageant.
"To all the petite girls out there who have always dreamed of joining a beauty pageant and becoming a beauty queen. This is a big opportunity for you. Build yourself with confidence and to always have positive mindset because your mindset will make you become somebody."
Joanne who is pursuing Diploma in Interior Design at Sabah Institute of Art enjoys hobbies such as dancing and singing.
"My ambition is to be a successful interior designer one day. I want my life to be interesting. I would like to just keep on dancing to feel good to the soul."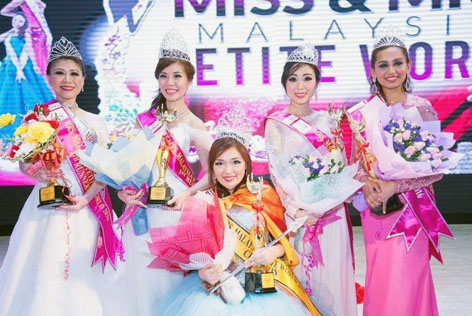 Winni Lai, married with two daughters, aged 6 and 4 was surprised to win in her first ever beauty pageant.
"I have no experience but I won. I joined the pageant journey because I wanted to challenge myself and the benefits are worth it," said Winni who also added to her achievement by grabbing five subsidiary titles of Best Princess Gown, Most Charming, Most Popular, Most Supporter and The Best Partner Award.
The Best Partner Award is for best matching as a couple. Six contestants together with their spouses consisting of six pairs joined the challenge. The winning couple went to Winni and her supportive husband.
Being the first time in a beauty pageant has taught Winni many valuable things.
"It was a fascinating experience with a fantastic connection to all the contestants whom I have admired and respected. I learned the value of teamwork. Without a team, we can't find success. I hope to develop my network base to improve my business," said Winnie who enjoys hobbies such as travelling, singing and shopping.
"It's awesome to see the consistency by the pageant world showing their support, interest and opportunities towards petite women. The pageant is a great platform to elevate the quality lifestyles in women and opens up an insight to what this beautiful world has to offer."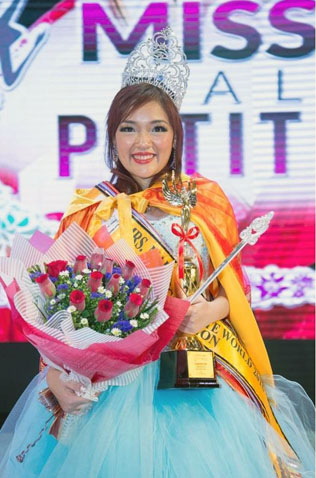 For the talent portion of the competition, Winnie performed beautifully a dance routine that amazed and delighted the audience.
With her new-found title, Winnie has been working hard to be fully prepared for the Mrs Petite world finals.
"I still need to make some improvements, especially on my dancing. I will definitely give my best effort in all of the segments and hopefully to win the title.
The Miss and Mrs Malaysia Petite World 2016 pageant held under the theme, "Beauty of Today's Women" is organised by Yinzi Event and Marketing. Its CEO Madam Lim Siew Cheng said, "Through this platform, we strongly encourages all the pretty women whose height below 163 cm to take this opportunity to realize their true potential, build their confidence and expand their personal network internationally."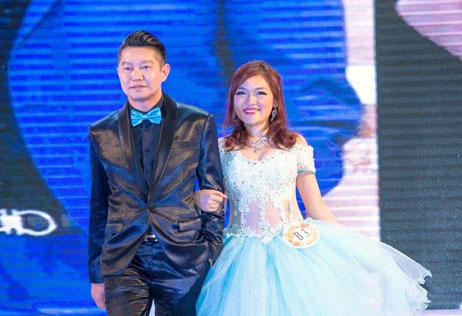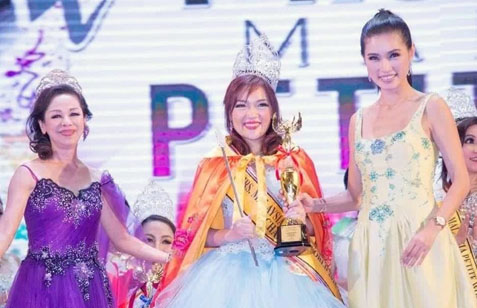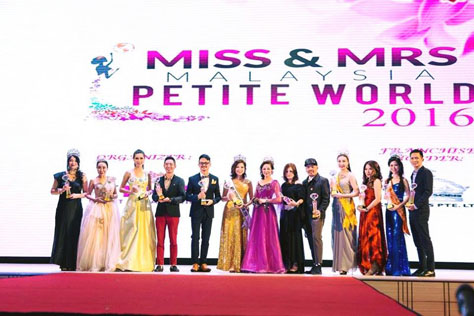 WINNERS LIST

MISS MALAYSIA PETITE WORLD 2016:

Champion : Joanne Dayang Baru 
1st runner up : Nicole Erza Kurenai
2nd runner up :  Ee Von
3rd runner up: Shakila Saiful
4th runner up: Danise Cheah
Subsidiary Titles:
Miss Best Princess Gown: Danise Cheah
Miss Photogenic :  Ee Von
Miss Fitness : Jodie Cheong YiMei
Miss Most Beautiful Skin : Danise Cheah
Miss Best Eloquence : Nicole Erza Kurenai
Miss Best Talent : Jodie Cheong YiMei
Miss Most Talented : Jodie Cheong YiMei, Danise Cheah & Ee Von
Online Voting :  Champion : Danise Cheah
1st runner up :  Shakila Saiful
MRS MALAYSIA PETITE WORLD 2016:
Champion : Winni Lai
1st runner up : Fanny Lee
2nd runner up : Yvone Ong
3rd runner up : Bkay Nair
4th runner up : Shirene Moong
Subsidiary Titles:
Mrs Best Princess Gown : Winni Lai & Shirene Moong
Mrs Photogenic : Bkay Nair
Mrs Perfect Figure : Iceleen Tan
Mrs Most Beautiful Skin : Ada Shek
Mrs Best Eloquence : Kiren Rani
Mrs Best Talent : Fanny Lee
Mrs Most Elegant : Shirene Moong
Mrs Most Confident : Sherme Paris
Mrs Most Charming : Winni Lai
Mrs Most Supporter : Winni Lai
Mrs Most Talented : Fanny Lee, Sherme Paris & Yvone Ong
Online Voting :
-Champion : Sherme Paris
-1st runner up : Ada Shek
-2nd runner up : Yvone Ong
The Most Popular of the Night : Winni Laii
The Best Personality : Joanne Dayang Baru
The Best Partner Award : Winni Lai & Jack Chong
The Most Supportive Husband :
1) Bkay Nair and Mike Tan
2) Shirene Moong and Ooi Kok Tong
3) Samantha Sam and Jeff Chew
4) Yvone Ong and Bernard Low
5) Fanny Lee and Jeff Tan