Crutches Not a Barrier as Model Makes it to Miss Universe Msia Top 18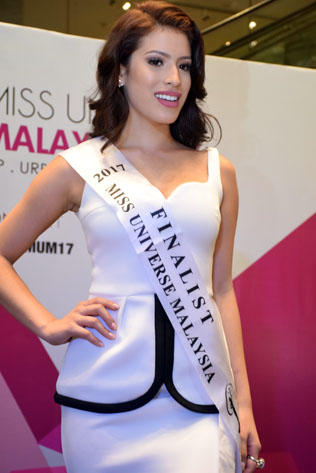 22-year-old model, actress and artiste Samantha Katie from Klang received applause from the crowd when she showed up on crutches due to a fall which fractured her right foot. Doctors said it will heal in three weeks.
"I am giving it my all to take the crown. I must win," said Samantha, of mixed Malaysian Chinese/Brazilian blood. Her mother is a Chinese and she not only speak English but also Malay, Mandarin, Tamil and Portuguese.
Samantha is making a comeback this year after having made it into the Top 6 (then 18 years old) in Miss Universe Malaysia 2013. She started her career as a top model in Malaysia and acted in her first horror movie titled "Kastil Tua" a joint Indonesia/Malaysia production.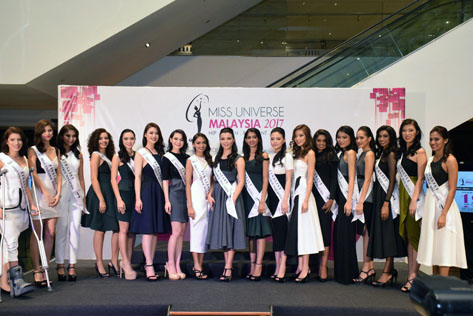 The Top 18 finalists running for the coveted title of Miss Universe Malaysia 2017 were revealed following a roadshow across the nation in search of young ladies who aspired to represent Malaysia on the Miss Universe stage.
The announcement was made by Miss Universe Malaysia Organisation (MUMO) 2017 at Intermark Mall on 13 Oct, 2016.
The Top 18 finalists making up the list include, among others, medical and law students, graduates, fencing coach, finance manager, model, actress and online entrepreneur.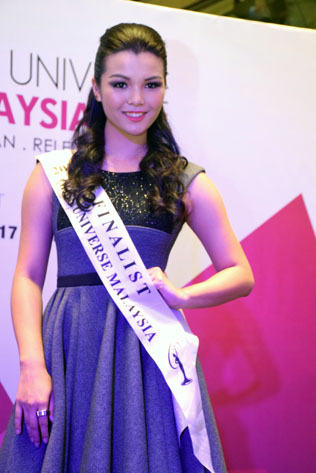 For dual degree student in public relations and event management at Taylor's University Lakeside campus, Dana Low, 21, from Petaling Jaya, said she is excited to make the cut for the finals and have started preparing for the finals.
"It is important for me to utilize the time properly and be fully prepared both mentally and physically strong for the competition," said Low of her preparation strategy. She enjoys watching beauty videos, sports and crafts, and hopes one day to set up her own events company.
MUMO national director Elaine Daly, a former Miss Universe Malaysia 2003 said, "Winning the crown is without a doubt, an opportunity of a lifetime but only one girl will have the privilege of wearing the Miss Universe Malaysia crown. 13 years ago I was given the honour of representing Malaysia on the Miss Universe stage. It was an amazing experience for me and I am so proud to be able to guide and groom our young girls here today to go on that same journey that I once undertook."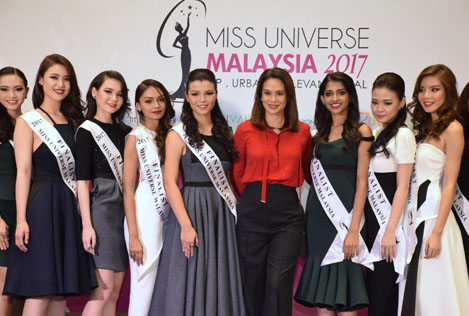 The journey of the 18 finalists will be captured and shown over 40 webisodes in a reality show-styles series on YouTube by online lifestyle channel, hurr.tv starting November 2016. Viewers can also catch the show on DIVA, available on Astro Channel 702 and DIVA HD Astro Channel 723 starting December 2016 onwards.
Miss Universe Malaysia 2016 will be crowned on 23 Feb 2017 at The Majestic Hotel, Kuala Lumpur. The winner will represent Malaysia at the Miss Universe pageant to be held in the later part of 2017. She will also receive a RM50,000 cash prize and sponsored prizes worth over RM150,000
Top 18 Miss Universe Malaysia 2017 Finalists
Dana Low, 21, Selangor, communications student
Dewina Petrus Guriting, 25, Sabah, freelance model
Erica Tan, 25, Labuan, biomedical science graduate
Gina Phillips, 21, Penang, social science student
Jaspreet Kaur, 23, Perak, accounting student
Karshini Ghanesh, 19, Johor, medical student
Laura Simon, 24, Sabah, personal trainer/fencing coach
Maegan Yip, 24, Selangor, digital marketing strategist
Michelle Soin, 20, Johor, law student
Nicolle Tan, 19, Selangor, psychology student
Ollemadthee, 24, Penang, engineering graduate
Peh Leon, 23, KL, finance manager
Samantha Katie, 22, KL, model/artiste
Savina Vanan, 24, KL, marketing associate
Sonia Naidu, 22, Sarawak, rates analyst
Tammy Singho, 20, Selangor, business student/part-time model
Tanalaksiumy, 22, Penang, accounting student
Zara Tam, 25, Johor, Online boutique owner