"A Giant Bite of Happy" for the Poor and Homeless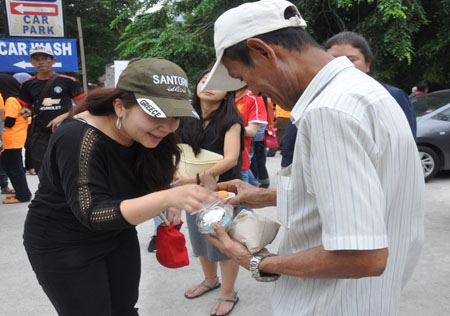 In conjunction with its Food Fest campaign (Oct 6-9) themed "A Giant Bite of Happy", the Curve shopping mall in Mutiara Damansara, Petaling Jaya recently collaborated with Dapur Jalanan Kuala Lumpur (DJKL), a volunteer-based soup kitchen service, to provide food to the underprivileged.
Teaming up with the Curve's Food Fest vendors, the Curve donated packs of Nasi Ambeng, Nasi Goreng Johor and muffins to DJKL to aid its efforts in feeding the homeless.
The Curve management team members alongside DJKL volunteers distributed the packed food to the homeless and poor at Jalan Panggung in the city centre. In addition, the members also offered support to the homeless by simply spending time with them and lending them a listening ear.
"As responsible corporate citizen, it is important to us that we find time in our busy schedule to give back to society. It is not merely about donating but also connecting with the less fortunate and showing them that we care. We are an advocate for sustainable work and by taking this extra step to spend time with the homeless, engaging with them and adding this human connection in our outreach, we hope that we are able to positively impact their lives in some small way," said The Curve general manager Jazmi Kamarudin.