Myanmar's Linn and Mongolia's Sarnai Are Crowned 2016 Asia Noble Queens
Linn Kalayar Oo, a 19-year-old university student from Mandalay, Myanmar was crowned as Miss Asia Noble Queen International 2016 at a glittering grand finale at The Royale Chulan Hotel, Kuala Lumpur on 21 Oct 2016.
That same evening in the Mrs category for married women, model Sarnai Saranchimeg, 34, from Ulaanbaatar, Mongolia claimed the title of Mrs Asia Noble Queen International 2016.
They emerged as the winners after competing against delegates from Singapore, South Korea, Sri Lanka, India, Japan, Taiwan, Philippines and host Malaysia. There were four delegates from Malaysia in each of the Miss & Mrs category. Malaysia's 24-year-old Nina Kho took third place in the Miss category.
Linn and Sarnai each won cash RM10,000 and will go on to represent Asia to compete in their respective Miss and Mrs category at international pageants in the USA and will have opportunities to participate in Hollywood film industry and movie casting.
"Our champions Miss Linn Kalayar Oo and Mrs Sarnai Saranchimeg are going to compete in Hollywood. This is what Asia Noble Queen is about. We provide international skills learning through these global opportunities to develop their full potential and reaching another height of career success," said Asia Noble Queen International organisation president Jan Sit who made a RM10,000 donation to a Chinese primary school during the pageant finals.
The 5' 7" (172cm) tall Linn from Mandalay is of mixed Bamar-Chinese race and can speak Chinese, French and English fluently other than Burmese. She is in her third year studying French at Mandalay University of Foreign Languages (MUFL).
"I am so happy. I feel very proud as a young Myanmar woman to win the title and I'm really looking forward to representing my country and Asia in the international finals," said Linn.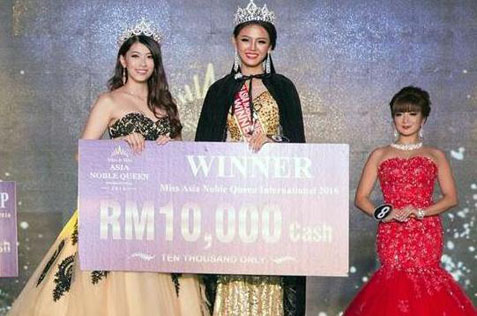 The win added another feather to Linn's cap. Earlier this year, she had won the Miss Myanmar Noble Queen International 2016, Miss Universe Mandalay 2016 first runner-up and Miss Mandalay University of Foreign Language 2016.
"I believe I can do well at the worlds," Linn said confidently of the upcoming Miss Asia USA pageant to be held at Universal Hilton Hotel in Hollywood, California.
"For my final preparations, I will be perfecting my catwalk, photogenic smile, make-up, body-shape; building my fitness; improving my Q&A skills and making final touches on the most beautiful and attractive national costume, swimsuit and evening gown.
"The most important I learned in this pageant is having a kind heart to treat other people fair and square with sympathy and respect," said Linn on her pageant experience.
In her spare time, Linn loves dancing to stay fit and in shape. Her ambition is to achieve something meaningful in her life.
"Everybody can contribute their bit in own small ways. I want to do something good for my country, my region (Asia) and my globe (this world) by serving as goodwill ambassador to reach out to others in need, to get involved in charitable efforts on children and women, environmental issues, peaceful social duties and all kinds of goodwill missions," said Linn.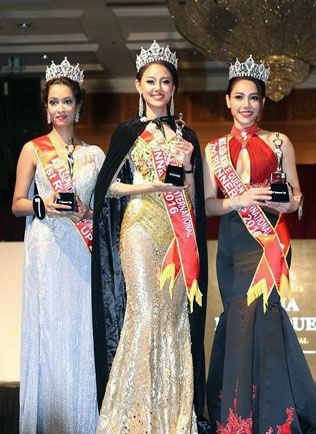 What makes her want to be a beauty queen?
"I noticed beauty pageants today are totally different compared to last 50 years ago. Pageants which traditionally focused on physical attributes of contestants have evolved over times and have made the contest more challenging today.
"Beauty queens have a lot more to do than just look tall and beautiful. Physical things such as having a fine face with best make-up and hairdo, healthy skin, perfect body shape, possessing some unique catwalk skills and photogenic smile and wearing the most beautiful and attractive national costume, swimsuit and evening gown are not enough for a 21st century pageant.
"They are given opportunities to also represent their school, city, country and region at every level for goodwill missions; and need to become more intelligent and smarter than their counterparts in earlier generations.
"These are the challenges faced by pageants of our time and I love challenges. That's what I want to be a beauty queen to represent my school, city, country and region in the coming years," said Linn.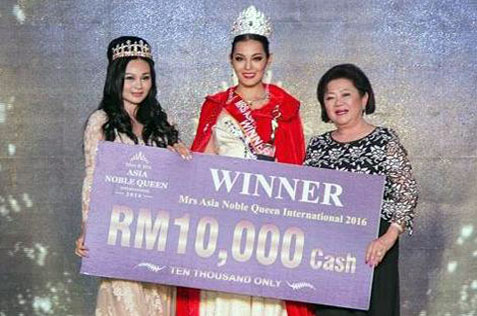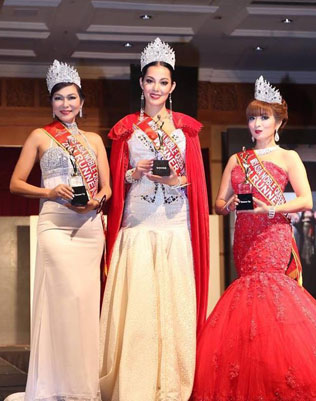 For Sarnai, a professional model and fashion designer and having one child boy, she can't describe her feeling with few words after winning the champion title.
"This is the best feeling I have ever felt in my life. It's the best of best feeling," said Sarnai who also took the Miss Popularity subsidiary title.
The 5' 9" (176 cm) tall beauty from Ulaanbaatar graduated from CITI Fashion Design University. She was awarded Asia Model Star 2014 and emerged as Miss Internet at The World Next Top Model 2014 competition.
Sarnai studied in Japan in 1999 and began her modeling career there as a contract model. She returned to Mongolia in 2011 and continued to do fashion modeling.
So what makes a married woman wants to be a beauty queen?
"Winning a beauty pageant isn't just about looking beautiful and having a fine face, she has to be beautiful inside and out.
"When the people hear that you are a beauty queen, they will listen more what you're talking about and will come forward to help you to help others.
"I'm an only child and I've always wanted a sister or brother. I grew up mostly alone and that spurred me on to love kids and I want to help orphaned kids as much as I can.
"Everybody lives just once. We have to make do with what we can the most. I put my heart into everything I do.
Sarnai loves fashion designing and drawing, as well as dancing and singing.
"I will do everything possible into preparing for the international finals like making my ideal pageant dress and doing everything on my own. My goal is to bring my own fashion brand to Europe one day."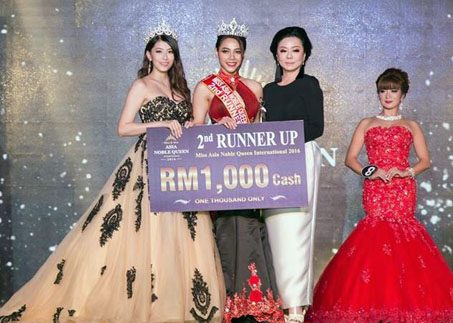 Official Results
Miss Asia Noble Queen 2016
Winner : Linn Kalayar Oo, Myanmar
1st runner-up : Thakur Rasmi, India
2nd runner-up : Nina Kho, Malaysia.
Mrs Asia Noble Queen 2016
Winner: Sarnai Saranchimeg, Mongolia
1st runner-up: Shibata Chie, Japan
2nd runner-up: Jenny Shimura Guinto, Philippines
Subtitles Winners
Miss Best Talent: Miss Sonomi Taguchi from Japan
Miss Popularity: Sarnai Saranchimeg, Mongolia
Miss Best National Costume: Jillayne Ling, Malaysia
Miss Photogenic: Chi Jia Lee, Malaysia
Miss Best Evening Gown: Channel Chin, Malaysia
Miss Friendship: Riri Chao, Taiwan
Miss Charity Queen: Jessica Lee, Malaysia