KL Beautician Wins Miss Malaysia Kebaya 2016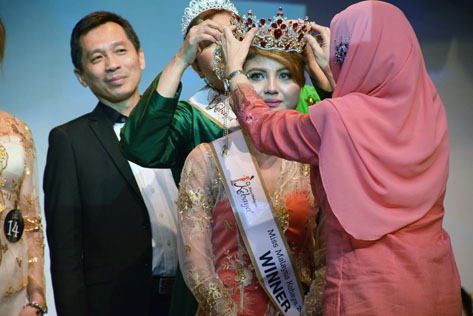 Beautician Amy Nur Tinie, 20, beat 14 other finalists to be crowned Miss Malaysia Kebaya 2016 at the grand finals held at Dewan Tunku Abdul Rahman, Malaysia Tourism Centre (MaTiC) in Kuala Lumpur on 12 Nov 2016.
Amy was crowned by Datuk Nor' Aini Binti Abdul Wahab, the deputy secretary general (Management & Socio-Economic) of the Ministry of Federal Territories.
"I feel so happy and grateful. To be honest, it was a tough competition with all the beautiful and talented ladies from all around Malaysia. However, I did my best and it was really worth it," said Amy.
The contestants paraded in kebaya and evening gown for the panel of eight judges who included four beauty queens namely Miss Malaysia World 2015 Brynn Lovett, Miss Malaysia Kebaya 2013 Sunshine Alleen, Mrs Universe 2013 Carol Lee and Miss Petite World 2012 Irene Tan.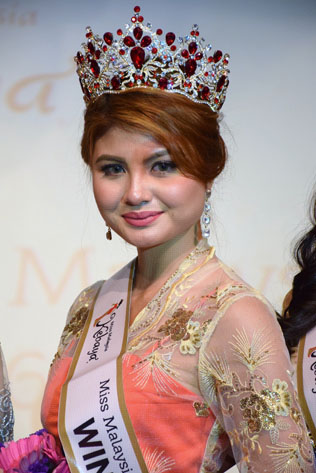 Amy made it to the final Top 5. In the Q&A round, she picked a question read out by MC Mahadzir Lokman: "The kebaya is a traditional clothing of Malaysia. Why do you think the kebaya is slowly diminishing in our country?"
"To me there are two reasons. Firstly, the younger generations are more keen to the western fashion and that makes the younger people feel like kebaya is only for old people or only for occasional functions and, secondly, because people think that Kebaya is expensive and they cannot afford it but actually Kebaya has many types at many prices so everyone can afford to buy Kebaya.
"Be proud of our kebaya because kebaya is a timeless beauty," answered Amy confidently to loud applause in the packed hall.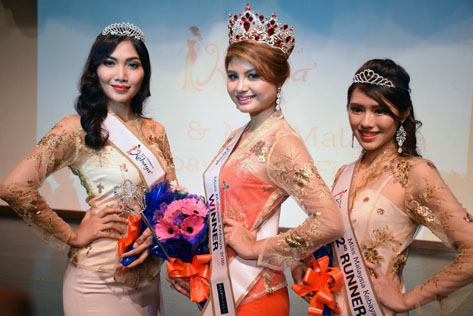 Amy has won several pageants before. She has won four other titles such as Miss Icon Pageant International KLMCC 2016, Miss KL Kebaya 2016, Miss KBJ Ratu Kebaya 2015 and Miss Batu Bar Lone Pine Hotel 2015.
Amy works in her mom's wedding boutique, salon and spa, primarily a one-stop source for wedding packages. She enjoys reading and outdoor activities in her free times.
"I wear the kebaya as daily clothes because it is my working uniform at my mom's boutique and also when I go for formal functions or weddings.
"As Miss Malaysia Kebaya, I need to set a good example so that the younger generations can see that the kebaya can be modernized and wearable by young people," said Amy.
On her future plan, Amy said she would like to become a businesswoman one day. "I want to become a very successful businesswoman and at the same time still involve in the entertainment industry as a host and actress, just like our very own Malaysian celebrity Neelofa."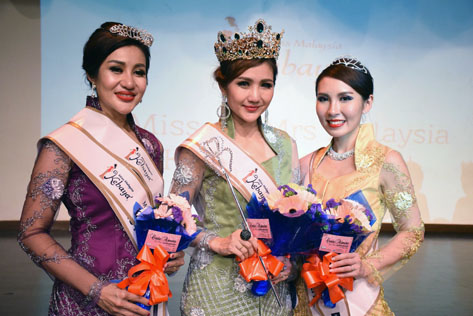 In another category for married women, 36-year-old sales consultant Alice Ong Siew Ling from Penang claimed the Mrs Malaysia Kebaya 2016 title. She also won the Best Talent subsidiary title for her high-energy song-and-dance performance.
The Miss & Mrs Malaysia Kebaya pageant is organised by Miss Malaysia Kebaya (MMK) organisation whose founder and national director Jason Hee said the pageant was founded to promote the culture of Malaysia, specifically, the kebaya dress of Malaysia.
"By promoting the kebaya dress, MMK hopes to remind everyone on its uniqueness and push for its relevance today and for the future," said Hee.
The pageant is opened to participants from all races regardless of their religious backgrounds in line with its concept of being a multi-racial and multi-cultural event. There is no bikini segment.
Hee thanked the government, particularly, the Ministry of Culture and Tourism and the Ministry of Human Resources for the support given to MMK.
"We received their support because of MMK's promotion of cultural values and providing a product that will enhance Malaysia's tourism, and creating job opportunities," said Hee who now plans to go international next year with Miss Kebaya World 2017.
He also thanked the many volunteers, sponsors, partners, contestants and everyone that had enabled the event to be conducted successfully.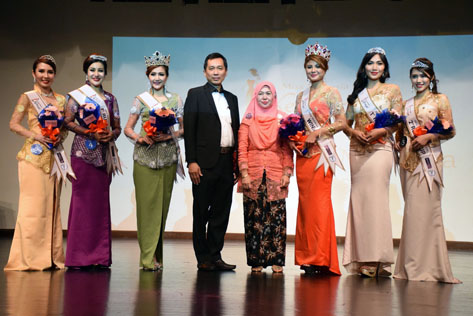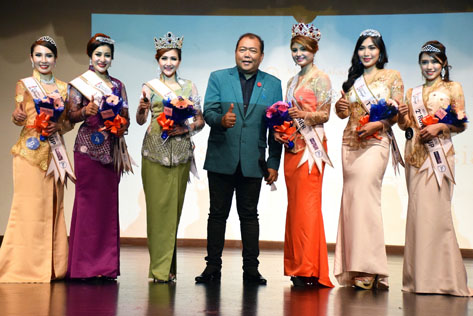 Miss Malaysia Kebaya 2016
Winner: Amy Nur Tinie, 20
1st Runner-Up: Icha Aneesa, 27
2nd Runner-Up: Verselle Yong, 27
Subsidiary Titles:
Miss Body Beautiful: Nurul Ain, 19
Miss Congeniality: Rose Amiera, 25
Miss Elegant: Carmilla Manja, 22
Miss Photogenic: Caroline Tan, 25
Best Catwalk: Rose Amiera, 25
Mrs Malaysia Kebaya 2016
Winner: Alice Ong Siew Ling, 36
1st Runner-Up: Cathress Gielbert, 32
2nd Runner-Up: Phoebe Ooi, 27
Subsidiary Titles:
Mrs Body Beautiful: Alice Ong Siew Ling, 36
Mrs Congeniality: Phoebe Ooi, 27
Mrs Elegant: Sangeetha Veloo, 29
Mrs Photogenic: Cathress Gielbert, 32
Best Costume: Cathress Gielbert, 32
Best Talent: Alice Ong Siew Ling, 36
Miss Malaysia Kebaya Ambassadors
Sanjna Suri
Amreet Kaur
Shean Everlast
Nicole Fe Lynne
Nur Shahidaa Abdullah
Evonne Beh