Two Men Disrupt Peaceful Melaka Vigil for Bersih Chief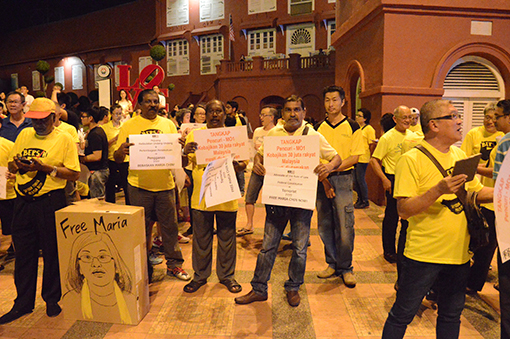 Bersih Melaka's vigil in Solidarity for Bersih 2.0 Chairperson Maria Chin on 24 november 2016 at the Stadthuys, Bandar Hilir was disrupted when 2 men gate crashed the gathering which saw about 300 yellow T shirt participants.
At about 8.09 pm, 2 unidentified men tried to rough up the participants, getting into a scuffle with the yellow T shirt members. Shortly a man wearing a red short sleeve shirt who identified himself as a policeman then managed to take control of the situation, asking the 2 men to leave the area.
The otherwise peaceful vigil saw both young and old gathered the spot commonly known as Clock Tower Melaka which is a famous tourist spot in Melaka. Participants were standing at the area by the side of the road facing the river with some of the mothers bringing their young ones with them.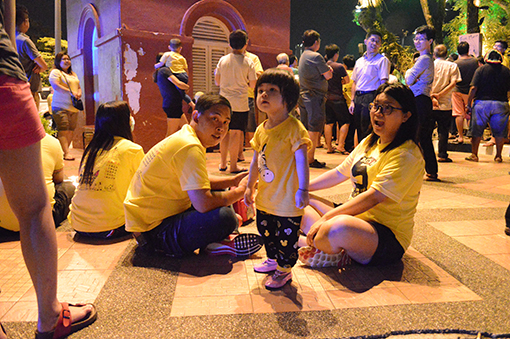 This night vigil was also supported by members of oppositon party Amanah, DAP, and a sprinkling of PKR members. The speakers who were from party Amanah and DAP took the stage and spoke about the injustice in detaining Maria Chin under SOSMA and demanded her immediate release.
A resolution was taken that night if Maria Chin Abdullah is not released on 29 November 2016 after the court hearing then from 30 November 2016 on wards the vigil will be held every night until she is released and the crowd gave a thunderous shout of 'boleh'(can).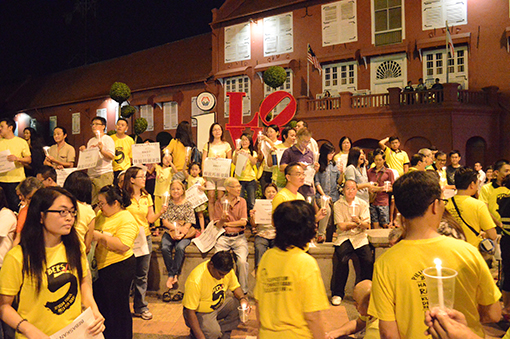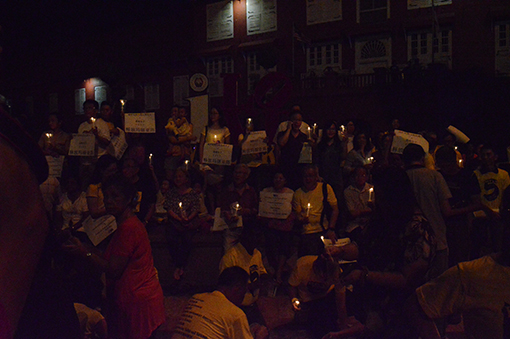 There were about 300 participants who attended at the height of the night at 9.00pm. One attendee Tina Singh who is from Penang and works in Melaka said that she supports Maria Chin because she is fighting for freedom and justice according to the constitution.
The tourist trishaw and motorist hooted in support of the vigil as they passed the clock tower while the singer who sings nightly at the clock tower also dedicated a song to all who attended that night.
In his speech Ayer Keroh state assemblyperson Khoo Poay Tiong thanked the police personnel from Melaka for the efficient service rendered to maintain peace and order of the gathering that night which ended peacefully at 10 pm.