2nd MyLives Global Beauty Pageant Unveils Top 12 Finalists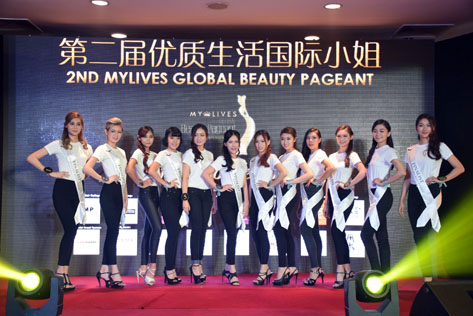 MyLives Global, an eCommerce company, has unveiled 12 finalists who will battle it out to be crowned the winner of 2nd MyLives Global Beauty Pageant final on 5th March 2017.
MyLives Global founder Andrew Thu told a packed press conference at Berjaya Times Square Hotel, Kuala Lumpur that the 12 contenders were selected from over 50 hopefuls after having gone through various qualifying rounds and much deliberation.
"We endeavor to produce a competition of high quality providing participants with opportunities for personal development and appreciation for a beautiful and healthy lifestyle," he said.
He said the key objectives of MyLive Global beauty pageant are to develop confidence for the young participants, to boost their exposure through promotional work with its associated sponsors and to be the perfect platform for introducing participants to modeling careers and various merchandising assignments.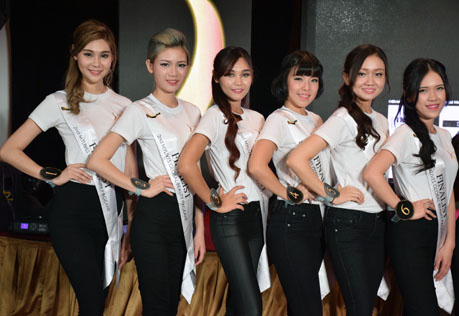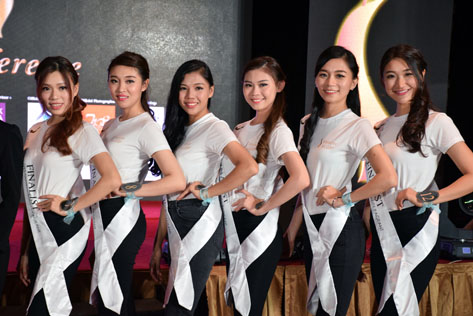 The competition is opened to single female non-Muslim Malaysians aged between 18 to 28 years with minimum height of 165 cm (5ft 5 in), and without tattoos on their bodies. There will be no appearance in swimsuits by the contestants.
The crown winner, first runner-up and second runner-up will each receive prizes consisting cash and sponsored gifts worth RM15,000, RM12,000 and RM8,000 respectively. There will be six subsidiary titles awarded during the gala night, namely Miss Popularity, Miss Finest Skin, Miss Photogenic, Miss Body Perfect, Miss Talent and Miss Fashion.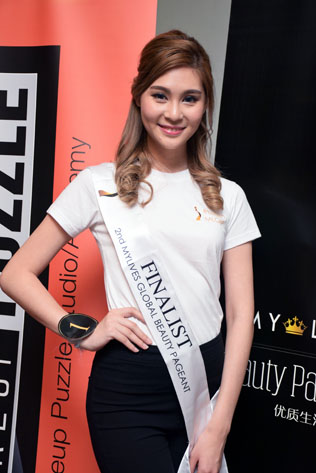 One of the hopefuls for the title, 24-year old full time model Eileen Chuah said she is excited to be a finalist and believes she is now ready to win the title. The Amber Chia Academy Most Promising Female Model 2012 enjoys singing in her free time. She was the first runner-up at Miss International Model of the Year 2013 and second runner-up at Miss Selangor Kebaya 2011.
"The most attractive part of my body is my eyes. The eyes are the window of the soul to look at the world learning the beautiful things in live," said Eileen who aims to be a top and successful model.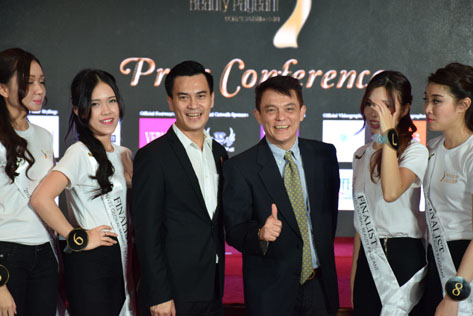 Andrew Thu said the fast moving modern age of internet and mobile internet has changed the way we live and conduct businesses. MyLives enables physical stores to see light as its business model is a combination of bringing brick and mortar stores to bridge the internet divide, creating an all-round platform and bringing together consumers and sellers in a new electronic marketplace.
The MyLives e-commerce platform was jointly created by Andrew Thu together with chief technology officer Dato Seri Marc Leong and executive director Dato Seri Jason Wong.
MyLives group of companies composed of four entities with each having their own unique target markets and concepts. The first company MyLives Global Network Sdn Bhd is mainly for distribution of specially formulated health supplement; MyLives Global Sdn Bhd, the second company to develop more businesses allowing companies to distribute their products and services to consumers (buyers).
The third company MyLives Global Event & Production Sdn Bhd is responsible for organizing the Miss MyLives beauty pageant annually and outsourcing talents to other platforms; and the fourth company MyLives Global Capital Sdn  Bhd is the company's  investment arm in the institutional sector.
The globalization focus sees MyLives Global Holding initially penetrating the ASEAN market, eventually targeting China in 2018 and followed by Europe. The ultimate goal is for the company to go public through an an Initial Public Offering (IPO) to raise funds for its overseas expansion plans.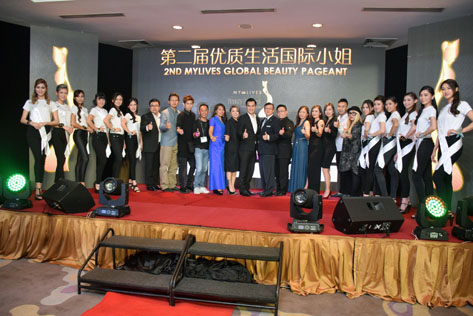 2nd MyLives Global Beauty Pageant Top 12 Finalists
Eileen Chuah, 24, full-time model, Johor Bahru
Michelle Tan, 23, student, Sarawak
Denisse Yap, 21, interior designer, Ipoh
Winnie Tau Mun Yee, 27, dancer, KL
Sally Lee Kah Ying, 23, student, Malacca
Bella Lai Poh Hwa, 22, bank executive, Perak
Rachel Tan Yueen Lu, 19, student, Selangor
Apple Toh Ee Cheng, 26, sales manager, Klang
Fish Koh Ee Ming, 20, student, Johor Bahru
Minnie Loh, 22, model, Pahang
Macxy Wong, 24, quantity surveyor, KL
Chloe Woon Khe Chun, 26, interior designer, Selangor