Miss Universe Malaysia 2017 Finalists Visit Official Crown Sponsor
The 17 finalists of Miss Universe Malaysia 2017 made a courtesy call to Ceres Jewels Malaysia at its flagship Starhill Boutique, Kuala Lumpur recently to learn more about their sponsor before the grand final on 23 Feb 2017.
Ceres Jewels Malaysia is the official crown sponsor of Miss Universe Malaysia 2017.  The Miss Universe Malaysia crown was unveiled and witnessed by all the 17 finalists present. One of them will be crowned 2017 Miss Universe Malaysia at the grand final that will take place at Majestic Hotel, Kuala Lumpur on 23rd Feb and she will wear the crown estimated to be worth US$1.3million.
Also present at the event were Miss Universe Malaysia Organisation (MUMO) national director Elaine Daly and three former and current Miss Universe Malaysia beauty queens; namely Miss Universe Malaysia 2015 Vanessa Tevi Kumares, Miss Universe Malaysia 2011 Deborah Priya Henry and Miss Universe Malaysia 2016 Kiran Jassal.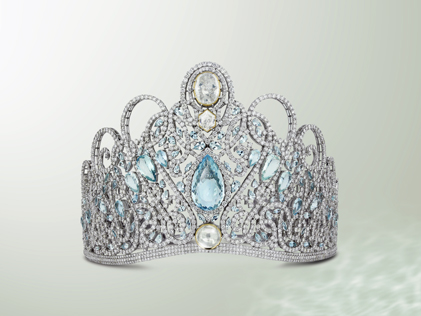 The Miss Universe Malaysia crown is a rare work of art designed and produced by Ceres Jewels. The whole production process, from the first sketches to the production itself, took about six months.
This masterpiece, weighing 600grams is made of 18k white gold and comprises of water gemstones that include Aquamarine which are arranged across the crown like the rolling Blue Tears waves.  A single 32 carat is set in the centre of the crown complemented with 2,507 pieces of white diamonds totaling 185 carats. Three remarkable heritage-cut diamonds, each at 14 carat, 5 carat and 4 carats respectively are set from the centre top of the crown to complete this beautiful masterpiece.
The girls had the chance to interact with the CEO Dato Sri Navneet Goenka who wished them all the best in the competition.