The Search Is On For Miss Chipao Malaysia 2017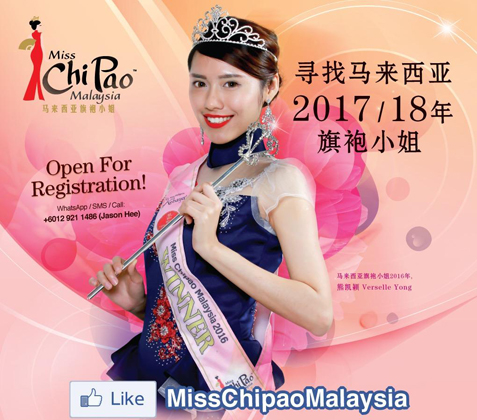 The search has begun for inspiring, intelligent and confident young single ladies from around the country to find the next Miss Chipao Malaysia 2017. Registration is now open and will close on 13 Feb 2017.
The competition is open to single Malaysian Chinese female or Permanent Resident (PR) aged 18 to 35 with minimum height of 160 cm and above. They must be able to speak Mandarin and English.
No registration fee is required and the 5-day beauty camp training for successful contestants is free. Total prizes worth more than RM50,000 will be won.
A Mrs category for married women has been added to this year's competition.
"This will be the first time that we have added a new Mrs Chipao Malaysia title in the competition for married women aged 25 to 40," said Miss Chipao Malaysia founder Jason Hee.
He said the annual competition was held to promote awareness, understanding and appreciation of the Chinese culture and tradition to the younger generations in multi-racial Malaysia. The traditional Chinese dress dates back to the Qing Dynasty (1644-1911).
Both category winners (Miss & Mrs Chipao Malaysia) will be representing Malaysia to the Miss & Mrs Chipao International 2017 world finals in China this year.
The crowning of Miss & Mrs Chipao Malaysia 2017 will take place on 11 March 2017 at Palace of the Golden Horses Hotel, Seri Kembangan.
For more information or to apply for the pageant, call Jason Hee at 012-9211486 or email to [email protected]