Tasik Taman Jaya Lights Up As Thousands Join in Chap Goh Meh Festival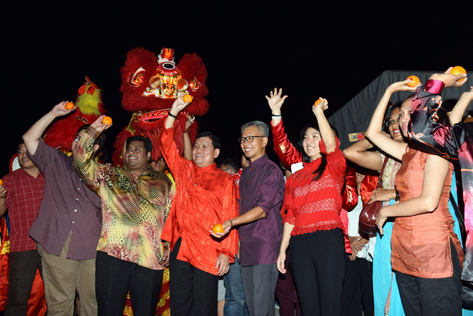 Tasik Taman Jaya in Jalan Timur, Petaling Jaya was a hive of activity with strings of lighted lanterns hung in trees across the park as more than a thousand people, young and old, from all races and walks of life filled the place to enjoy a grand Chap Goh Meh celebration on 11th Feb 2017.
Chap Goh Meh marked the last day of the 15-day Chinese New Year 'Year of the Rooster' celebration and it's that time of the year again for single ladies to toss mandarin oranges inscribed with their names and phone numbers into the lakes under the bright moon in hope that their sweethearts will pick it up.
Although the tossing of mandarin oranges is for single women, many others including single men also took part just for the fun of it.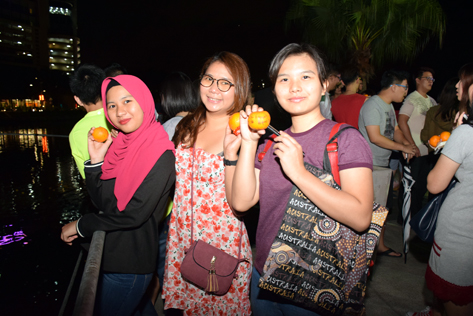 Accountant Azra who came with her two nieces Nur Syahirah, 18, and Amirah, 21, said they enjoyed themselves very much and seeing the large happy crowds.
"This is our first time taking part in tossing mandarin oranges because we want to experience the Chinese culture and traditions and we really enjoy the fun," said Azra.
For expatriates Jay Lee, 35, and Michael Dohyun Kim, 33, both from South Korea and working in marketing said this was their first time here in Malaysia and there were excited to join in the Chap Goh Meh celebration.
"In Korea we celebrate the Korean New Year on same day as Chinese New Year but nothing like this back home.  It's definitely a lot more fun here.  Very colourful and exciting and that makes for a memorable cultural experience for us," said Jay.
Not wanting to miss out all the fun, Jay and Michael wrote their phone numbers on mini yellow plastic duck toys, instead of the traditional mandarin oranges, before tossing them into the lake.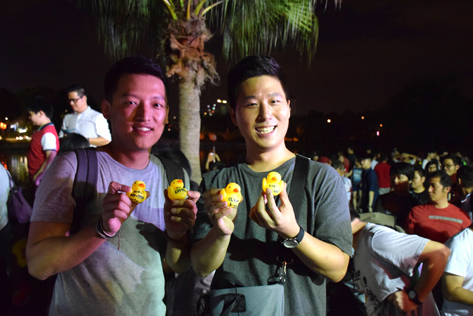 Besides the mandarin orange-tossing activity, the celebration which kicked off at 6.30 pm also featured other activities such as yee sang tossing session, yummy Chinese and other popular Malaysian delicacies, God of Prosperity and Rooster mascots walkabout spreading well-wishes to guests, acrobatic lion dance, stage performance and ang pow distribution for children and senior citizens.
Welcoming the crowds and joining in the celebration were Petaling Jaya Utara MP Tony Pua, Petaling Jaya Selatan MP Hee Loy Sian, Bukit Gasing state assemblyman Rajiv Rishyakaran, Taman Medan state assemblywoman Haniza Mohamed Talha and Damansara Utama state assemblywoman Yeo Bee Yin as well as Petaling Jaya City Council (MBPJ) councillors.
Tony Pua and Hee wished everyone Happy Chap Goh Meh and Gong Xi Fa Cai during their welcome speech.