Nestlé MILO and FC Barcelona Partnership to Help Millions of Children
Nestlé MILO and FC Barcelona have today announced plans to bring to life the four-year global partnership, aimed at enhancing the quality of life of children, with a series of initiatives to make healthy and more active lifestyles aspirational and accessible to children in Asia, Oceania, Africa and Latin America.
MILO currently reaches 22 million children each year through on-going grassroots sports programmes and, together with the global reach of FC Barcelona, targets to help millions.
Starting from this year, MILO in partnership with FC Barcelona, will be scaling up and expanding its grassroots programmes which have proven to be a unique contributor to children's physical activity and will leverage technology innovation and build strong synergies with FC Barcelona Escola (FC Barcelona Youth Academy) to help develop the next generation of football talent.
The programmes organised are designed to inculcate healthy, active and value-based lifestyles for children especially at their foundation years of seven to 12 years old.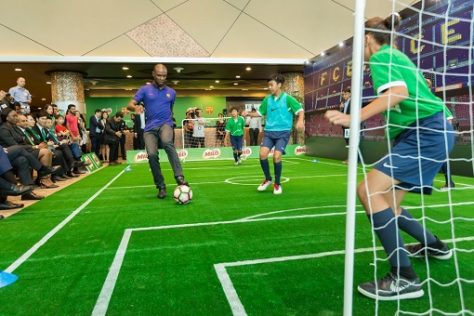 Children in Asia, Oceania, Africa and Latin America can look forward to initiatives organised by Nestlé MILO and FC Barcelona to develop and enhance football skills through a football tournaments. MILO also will be selecting and sending kids to train at the legendary Camp Nou, home to FC Barcelona. In areas where there is a paucity of playgrounds, equipment, or qualified coaching, MILO will be delivering a series of pop-up, mobile football fields delivered by the popular and well-loved MILO van to make recreation and play areas more accessible for kids.
According to Philomena Tan, Business Executive Officer MILO, Nestlé (Malaysia) Berhad "We believe that sports is a great teacher of life values, and MILO has been committed towards nurturing a nation of young champions for over 60 years in Malaysia through developing grassroots sports. We have worked with great partners to champion initiatives like MILO Hidup Bola, MILO Champions Clinic and the MILO-MSSM Awards programme to nurture great talent from the start, and to provide more avenues for Malaysians to discover their love for sports. We are confident that this partnership with FC Barcelona will offer even more opportunities to grow our Malaysian sports talent and encourage values such as respect, effort and teamwork, whilst embracing the spirit to 'Never Give Up'."
With the global partnership with FC Barcelona, MILO will be bringing the programmes beyond this 22 million to millions more over the next four years.